10 Ways to Experience Art in Barcelona
By Katie Arango

Barcelona is an art lover's paradise! And as anyone who has spent time there can tell you, Barcelona is full of museums dedicated to some of history's most beloved artists, as well as buildings, parks and outdoor spaces that stand out all over town. So, to make sure you're not missing out on any of the arty fun, here is our list of the top 10 ways to live art in Barcelona!
1. Museu Picasso
When you have "art" and "Spain" in the same sentence, it's practically inevitable that you'll end up talking about Pablo Picasso. The Museu Picasso in Barcelona has the most complete collection of Picasso's works (over 3500!), with many works dating back to his beginnings as an artist. And what is a fitting building for this type of collection? Just some large houses on Calle Montcada from around the 13th and 14th centuries.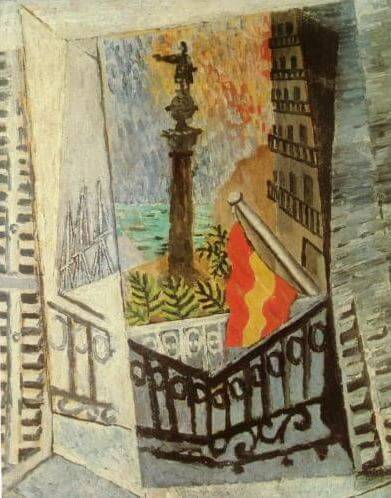 Barcelona, as seen by Pablo himself
2. Fundació Joan Miró
Joan Miró, prolific Catalan painter and sculpter, has his collection of works housed at the Fundació Joan Miró in Montjuic. The building and it's many patios hold many of his most well-known works. The museum is also home to a foundation started by Miró and a friend, that encourages younger artists to experiment with contemporary art.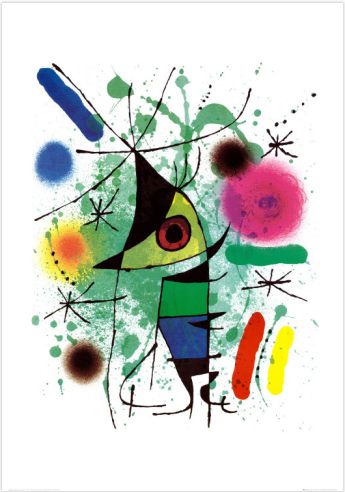 The Singing Fish, Joan Miró
3. Parc Guell
No trip to Barcelona is complete without spending some time outdoors at Parc Guell. Built from 1900 to 1914 and designed by famous Catalan architect Antoni Gaudí, the park features complex architectural structures – highlights include drac (the mosaic lizard near the entrance), the footpath under the viaduct, amazing views of the city, mosaics, and the snakelike tiled bench that runs throughout the park.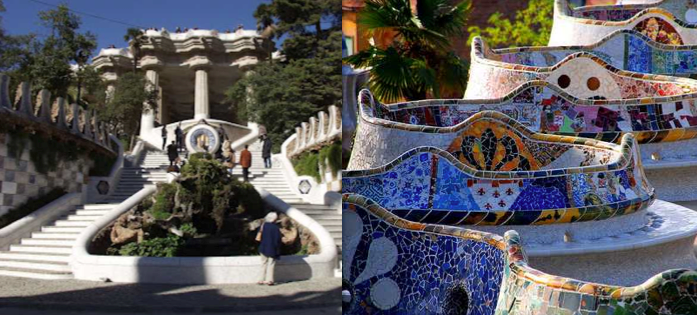 Impossible to pick just one image of this park
4. More Gaudí Architecture
Sometimes the line between art and architecture can get a little bit blurred. And this is apparent in all of the many marks that Antoni Gaudí has left on the city. The Sagrada Familia is one of Gaudí's most well known masterpieces, not to mention the largest, and it's both a church and world heritage site. Similarly, the Casa Milà, popularly known as La Pedrera, the most famous building of the of the Catalan Art Nouveau, is a must-visit on your trip to Barcelona. It's recognizable by its unusual shape and wavy exterior, as well as the unusual design of it's chimneys. Can't get enough Gaudí? There's also Casa Vicens and Casa Batlló.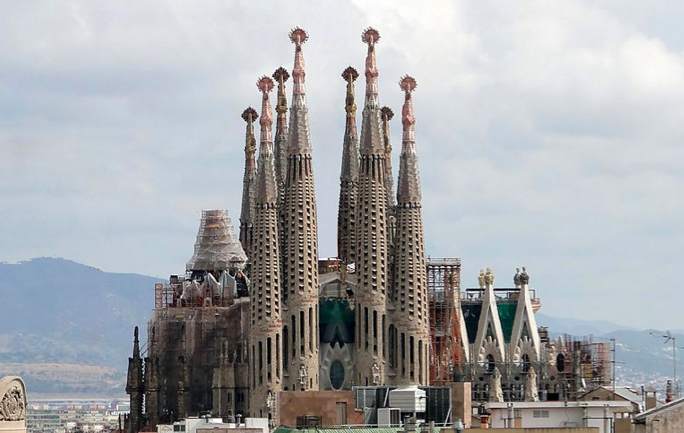 Construction on La Sagrada Familia started back in 1882 and isn't quite complete yet
5. Salvador Dali's Museum
While this one isn't technically in Barcelona, it's not a far day trip and come on, it's Salvador Dalí we're talking about here! The town of Figueres near the French border, is the birthplace of this extremely imporant artist and is currenly home to his museum. This museum is home to the largest and most diverse collection of works by Salvador Dalí, some of them designed specifically for this space. As the museum's website states:  The Dalí Theatre-Museum has to be seen as a whole, as the great work of Salvador Dalí, for everything in it was conceived and designed by the artist in order to offer visitors a real experience of getting inside his captivating and unique world. Oh, and one more thing: Dalí himself is buried in a crypt in the basement.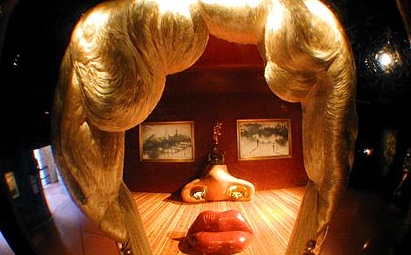 The Mae West Room, created specifically for this space
6. MNAC. Museu Nacional d'Art de Catalunya
There are two great reasons to visit MNAC while you're visiting Barcelona: the works inside the museum, and the amazing views you'll get of the city. Located in the The Palau Nacional in Mont Juic, this museum features Romanesque art, Gothic art, Renaissance and Baroque art and Modern art from Catalunya and around Europe. They also have an extensive collection coins dating from the 6th century BC.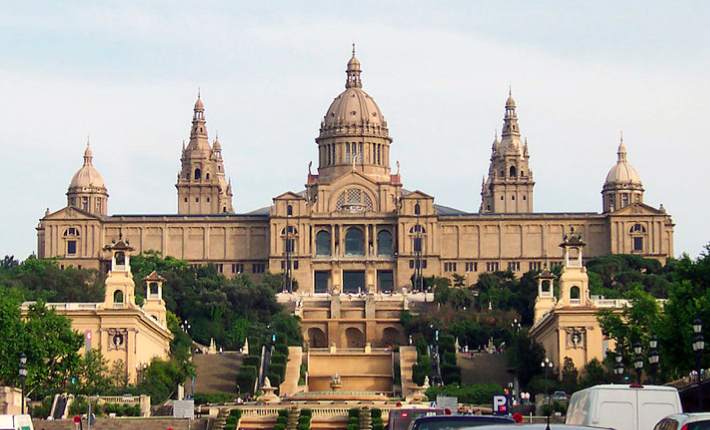 Palau Nacional, in all its glory
7. Museu d'Art Contemporani de Barcelona
Barcelona's contemporary museum has a permanent collection which dates from the mid 1900s through today, and they are divided into three periods of modern art: the forties to the sixties; the sixties and seventies; and contemporary. Their main focus on post-1945 Catalan and Spanish art, and their collection includes the works of many great painters of this time.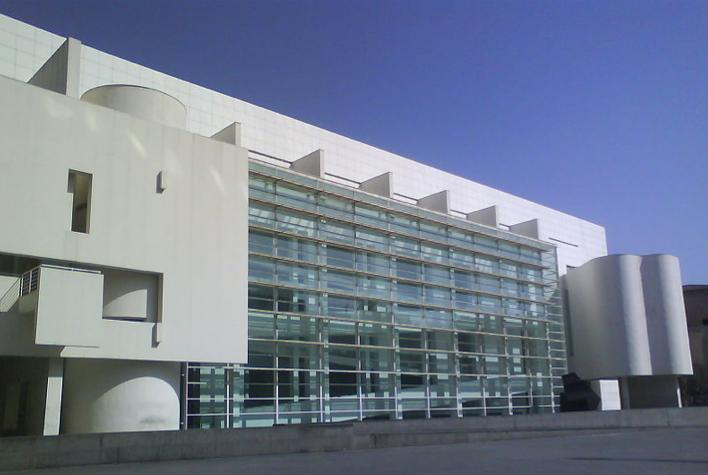 MACBA
8. Outdoor Art
You don't even need to set foot in a museum to see some fantastic works of art by some of the greats. Check out Frank Gehry's 1992 fish sculpture in front of the Port Olímpic. Or walk down las Ramblas to see a Joan Miró mosaic on the ground.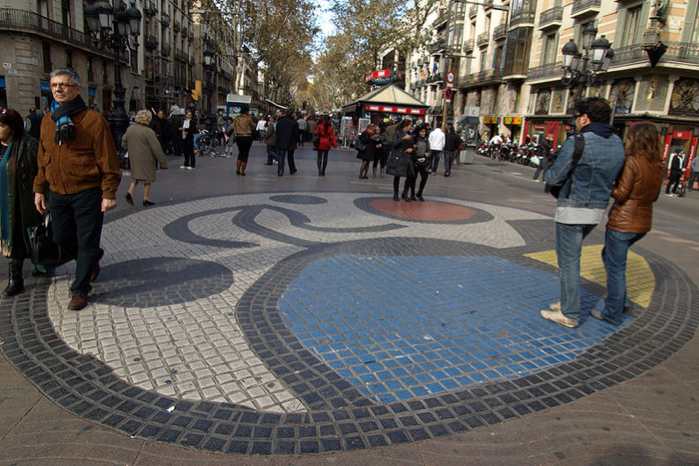 Art under your feet
9. Fundació Antoni Tàpies
The Fundació Antoni Tápies was created to promote the study and knowledge of both modern and contemporary art and is dedicated mainly to the works of Tápies himself. His art throughout the years has varied from dada to art brut to surrealism to abstract to his work with different materials (Tápies didn't see materials as a way to convey an idea, but rather as the idea itself.) Like many artist, Tápies' work reflects the social/political events that were taking place around him, such as WWII and Franco's dictatorship.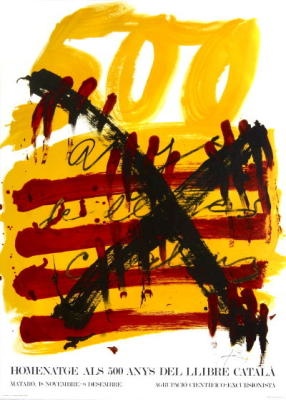 Homenatge Als 500 Anys Del Llibre Catal, Antoni Tapies
10. Local Artists from Barcelona
Each weekend in Plaça St Josep Oriol, right next to Plaça Del Pi, deep inside the Barri Gotic is a fair where local artists sell their works. There is a large range of different styles of artwork available, however all of the artists are members of the Associacio de Pintors de Barcelona. Not only will you get to see some amazing works of art, but you will also have the opportunity to chat with the artists that created them.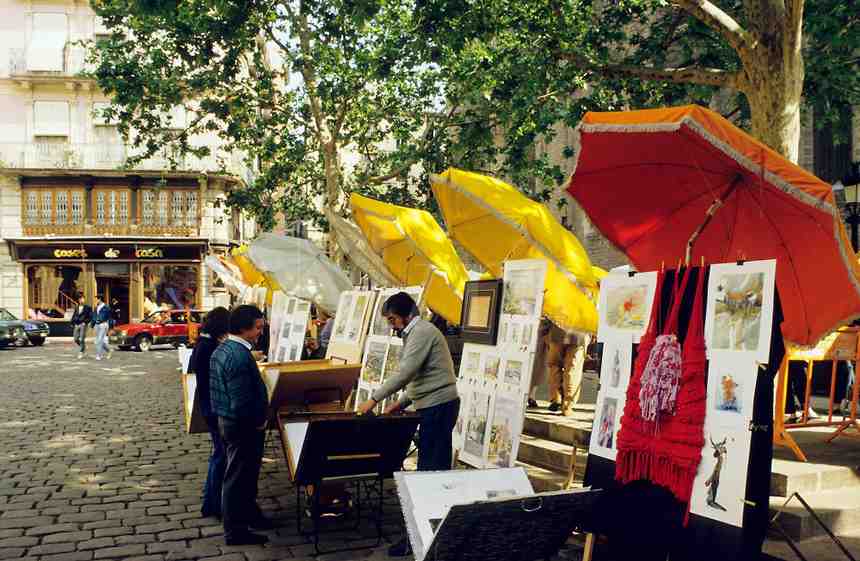 A great way to spend a Sunday…
What's your favorite way to experience art in Barcelona?