Buenos Aires Fútbol Showdown
By Katie Arango

De que equipo sos? It might be one of the most important questions you can be asked when meeting someone new in Buenos Aires. Because let's face it, football here is a big deal. (If we've got any Unitedstatesians reading this, yes, we're talking soccer.)
Now, these two teams that have been serious rivals for over a century. Their match is referred to as theSuperclásico, known around the world as one of football's most important matches, and rated one of thetop 50 sporting events to see in your lifetime!  Rivalries don't get much fiercer than this, and you'd be hard pressed to find more passionate fans.
Club Atlético Boca Juniors
Home stadium
La Bombonera – named after its shape that resembles a box of chocolates in La Boca (imagine the killer acoustics!)
Nicknames
Los Xeneizes – which comes from the Genoese immigrants who founded the team (and all of the many turn-of-the-century Italian immigrants in La Boca)
Los Bosteros – translates as, well, the manure handlers.  Apparently it comes from the horse manure used in the brick factory which was formerly on the grounds of what is today La Bombonera. While it used to be used as an insult by rivals, Boca fans now wear the name as a badge of honor.
Best players (past or present)
Diego Maradona – of Hand of God fame.  Also one of Argentina's national heros.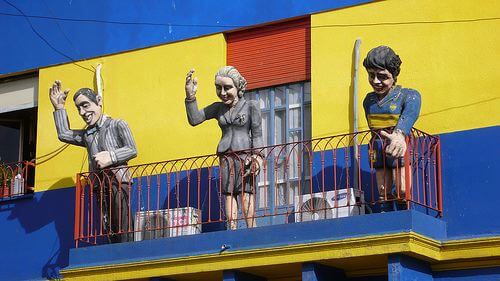 Maradona with other Argentine legends, Evita and Carlos Gardel
Martin Palermo – member of the Argentine National team
Carlos Tevez – fan favorite who has also played with Machester United, Manchester city and is currently with Juventus.
Fun Facts:
Boca Juniors is the Argentine team that has won the most international cups.
They have the first football-themed hotel named after them, and it has five stars!
They have the most famous Barra Brava, known as La 12 (the twelfth player).  In case you're not familiar with the term, according to Wikipedia, "Barra brava is a name for organized supporter groups of football teams in Latin America. This style of supporting is very similar to European ultras. It includes standing throughout the match, singing and other enthusiastic behavior. Some barras bravas have developed reputations for hooliganism." Think colossal flags, giant drums, coordinated songs, firecrackers, and unfortunately sometimes, violence.
Club Atlético River Plate
Home Stadium
El Monumental – located in Nuñez
Nicknames
Los Millonarios – CARP has been known as the Millionaires ever since the 1930s when they were able to acquire several expensive players.  Since River was founded in La Boca but moved to the more affluent Nuñéz, the nickname has taken on a more modern-day meaning.
La Banda –  because of the red strip on their logo.
Best players (past or present)
Enzo Francescoli – a Uruguayan soccer champ
Ariel Ortega – one of the best dribblers in the world, he was also known for his and his bad attitude.
Javier Mascherano – FC Barcelona and Argentine national team player
Fun Facts
River Plate has won the most local tournaments of any Argentine team.
Many important concerts are held in El Monumental because it is the largest stadium in the country.
Well, not exactly fun, per se but in 2011 they got demoted to the B league for the first time in Argentine soccer history, meaning they were relegated to the second division.  No worries, kids, they're back now!
As an Argentine, you probably have little say as to which team you'll support.  You were likely born into a family of followers of one specific team and you've been showing them undying devotion before you could speak.  However, you lucky foreigners, you get to have your pick!  But be warned, you can make enemies just as easily as you can make friends by vowing your love for one team or another.
While we've only outlined the two most popular Buenos Aires based teams, these are certainly not the only two choices available to whom fans to declare their loyalty. There are tons of teams in and around Buenos Aires, including Racing, Independiente, Velez Sarsfield, San Lorenzo, Rosario Central, Estudiantes, and the list goes on and on…and on and on.
You can pick your team based on what which team your friends support, on which team has the cachiest stadium songs (Click the play button in the column on the right for a sample of what these jams sound like), or which flavor popsicle you like the best.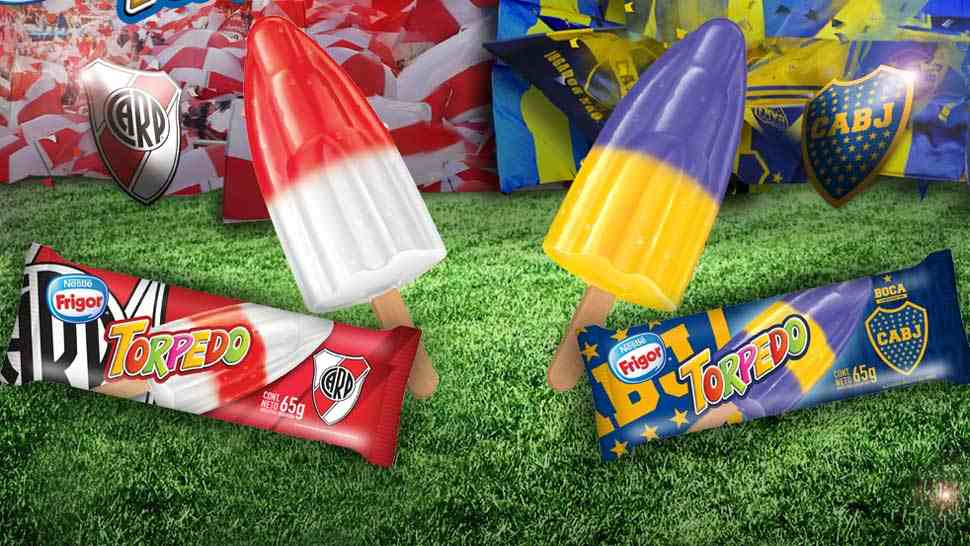 De que equipo sos?  Let us know which team is your favorite, or your favorite River and Boca fun facts we may have missed in the comments below!