Food in Buenos Aires: Where experience is just as important as taste
By Steven Levy

Buenos Aires Sustainable Development Intern and Michigan State University junior, Alexandra Stano, shares her love of food and culture with us in today's intern blog post.
I would definitely consider myself a foodie. I especially love cooking and eating foods from other countries because it is a way to experience different traditions and cultures. When I found out I was going to study abroad in Buenos Aires, I immediately researched the types of food the city offered. Having been in Argentina for over a month now, the food has not let me down. Here are some of my favorite dishes I've tried.
Soup
Right now it is winter in Argentina, which means cold temperatures and strong winds. Luckily, many restaurants offer regional, hearty soups that are a perfect cure for the cold. The most common cazuelas (stews) include locro, lentejas, and carbonada criolla. Locro is a thick yellow soup with beef, ham, corn, big white beans, and onions. Its meaty and savory flavor is satisfying and filling. Lentejas is another popular dish, consisting of dark lentils with sausage, beef, carrots and onions. Carbonada criolla is my personal favorite. With peaches, onions, carrots, sweet potatoes, squash, and beef, this stew has the perfect blend of sweet and savory flavors.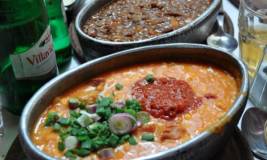 Para llevar
Para llevar meaning "to go" is a phenomenon in Buenos Aires that I have grown to love. The city is filled with restaurants that sell prepared hot and cold foods. All the para llevar spots have an overwhelming amount of options, so there's something for everyone. I found one location that was exclusively vegan and vegetarian. I filled my container with lentils, Spanish-style beans, tabbouleh, tofu, sautéed butternut squash, and kiwi. The food was so fresh and tasty that I felt like I could happily give up meat. However, I'm in Argentina, so that won't be happening!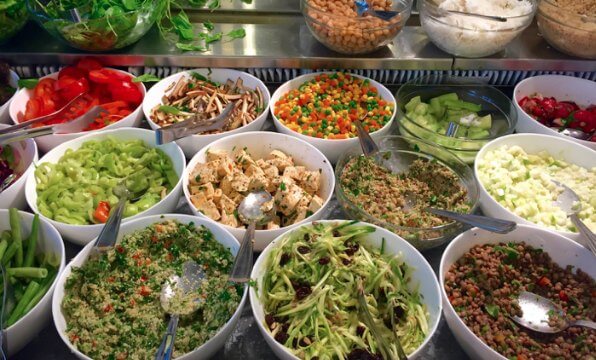 Steak
Argentina is known around the world for its beef, so I had high expectations coming here. Let me just say that I have not been let down. I enjoyed the best steak of my life a few weeks ago at a restaurant called Las Cabras. I ordered the Bife de Chorizo cut because it is characteristically big, thick, juicy and loaded with savory goodness. The meat is typically served on a wooden plate and the portion sizes are huge. If you have the chance to spend some time in Buenos Aires, make sure the first place you go to is a parrilla (steak house)!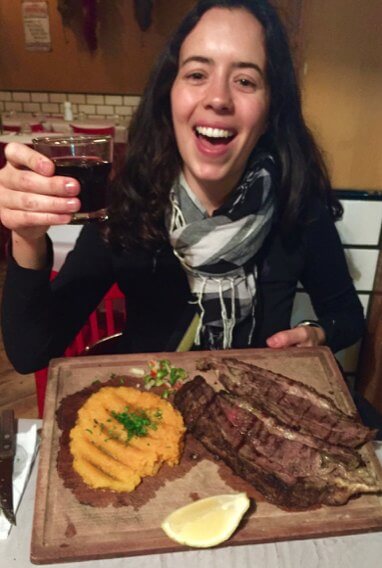 Dulce De Leche
Porteños (people from Buenos Aires) have a huge sweet tooth. Bakeries and gelato shops are practically on every block of this city. There are endless types of desserts, but dulce de leche is by far the most important. This caramel-like spread is made of milk, sugar, and vanilla extract. Sometimes I think that dulce de leche is the mortar that holds together all the buildings in Buenos Aires because it appears to be everywhere. In the grocery stores, you will see aisles of dulce being sold in 16 oz tubs. Not kidding. Dulce de leche is commonly found in pastries, cakes, crepes, and gelato flavors. It tastes great in everything, but I especially love eating it with apples or bananas.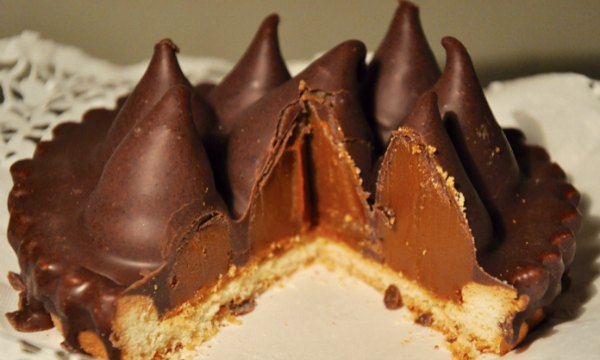 As good as the food is in Buenos Aires, the overall experience of eating has been the most enriching part. Food is a very social event here. It is a time to relax and enjoy good company. During the school year, I often feel rushed when I am eating because I have to study or am in between classes. I will miss the way people in Buenos Aires take their time to eat and converse, but I hope that I can continue to do this more often once I return home. Honestly, what is better than enjoying a great meal and surrounding yourself with people that make you happy?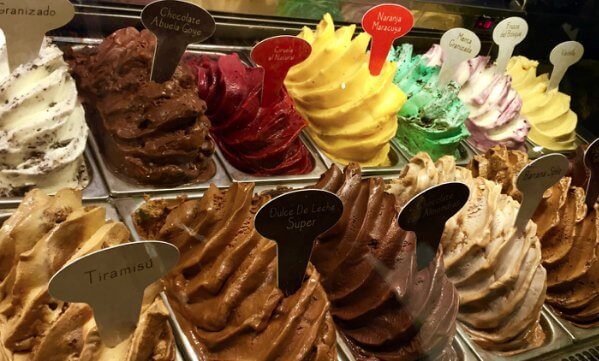 Have you ever tried any of these dishes? Leave a comment below and share your favourite Argentine foods!