Interview with Buenos Aires Program Alumna Alli
By Katie Arango

Alli Tolbert, graduate of University of Denver, had two Connect-123 internships in Buenos Aires back in early 2012. She took time out of her busy Peace Corp schedule this week to chat with us about what she's been up to since we last saw her.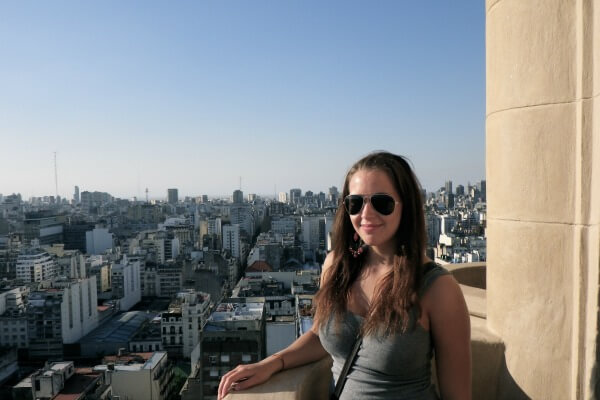 A Typical Porteña Scene
You spent time in Chile and Spain prior to heading to Argentina. Why did you decide to intern in Argentina?
When studying abroad in Chile for six months, I visited Buenos Aires for five days. I fell in love with the city and the Argentine culture, and wanted to return for a longer time. Being a large metropolitan city, I knew Buenos Aires offered a wide variety of exciting internship opportunities relating to international relations.
What do you miss most about Argentina?
I miss the energy from Buenos Aires–there is so much to do, see, and experience. The people were very welcoming, warm and friendly. I also miss the biodiversity of the country. I was fortunate enough to backpack through Patagonia–it was stunning. And of course I really miss the mate, alfajores, and asado!
You had two internships during your time in Buenos Aires. Tell us a bit about each of them.
I chose to do two part-time internships to explore different areas within the non-profit sector. I really benefited from this work schedule because I gained unique experience and insight in each role. At one non-profit, which focused on environmental education, I was the assistant in capacity-building workshops to help teachers implement environmental education lesson plans and awareness. A big projects they were doing while I was there was focused on water conservation within the city. I researched topics such as environmental protection, issues in Argentina's Patagonia, and Argentine provincial water management and helped in the creation of literature around these themes.
The second organization was focused on fostering international cooperation with Argentina, and they worked in a variety of roles. I was exposed to a lot of projects, which was exciting because my tasks would often change. I developed strong research, data collection, and Spanish writing skills.
What are some of the personal skills and/or professional lessons you learned from your internship?
Relationships are key. Especially in Latin America, as I'm learning now working in Ecuador, building relationships and trust in the workplace is essential for success. On a personal level, I learned to take more initiative in projects and assignments. The work environment was more casual than my prior experiences in the States, and I think this gave me the confidence to push myself and my work ethic.
Do you think your Connect-123 internships had any effect on your career path?
My Connect-123 internships certainly had a positive effect on my career path. They gave me a deeper insight into the non-profit sector, and experience working in a cross-cultural environment. The time I spent in Argentina helped define what my career goals were, and my next steps after finishing college.
We were thrilled to hear you're currently in the Peace Corps in Ecuador. What made you decide to come back to South America?
It was Peace Corps' decision to assign me to South America; I had no say in my placement during the application process. Being a Peace Corps Volunteer has always been part of my career plan, so when my invitation was for Ecuador, I was thrilled! I have been here for three months and am very excited to be living and working in Ecuador for the next two years.
Present-Day Alli in Cuenca, Ecuador
Congratulations, Alli!  We look forward to seeing great things from you in the future!