Interview with Health Care Intern Jessica
By Katie Arango

Jessica Definis, a nursing student at Northeastern University, shares her experience interning at a public hospital in Buenos Aires.
What was a typical day at work like?
We began the morning by preparing all patient medications, IV fluid orders, and any possible tube feeds. We would assess our patients, take their vital signs and administer all necessary medications. In the morning we would take a break for mate and facturas while documenting our interventions. We would then pair up and change all patient beds, perform perineal hygiene, asses skin integrity, monitor and treat pressure ulcers and document input and output. We always ended the day eating lunch together, either provided by the hospital or our nurse manager's famous milanesa.
How did this experience differ from your expectations?
I tried not to think about my internship too much before I arrived. I really had no idea what to expect. I knew the adjustment to a new country might be hard enough without having to deal with the shock of a work environment different from the one I had pictured. I tried to prepare myself for the fact that clinically speaking things could be very different from my experience working in some of Boston's best hospitals. Something I didn't expect (or give much though to at all) was the difference in work culture. In Buenos Aires everybody greets each other and says goodbye with a kiss on the cheek. I was a little thrown off when I had to kiss the chief of surgery on my first day! Even though it was a change I loved the affection that the people in Buenos Aires show for each other and the relaxed work culture. Everyone speaks so openly and the professional barriers were a lot less rigid. Imagine your boss texting you on the weekend reminding you to wear a jacket so you don't catch cold.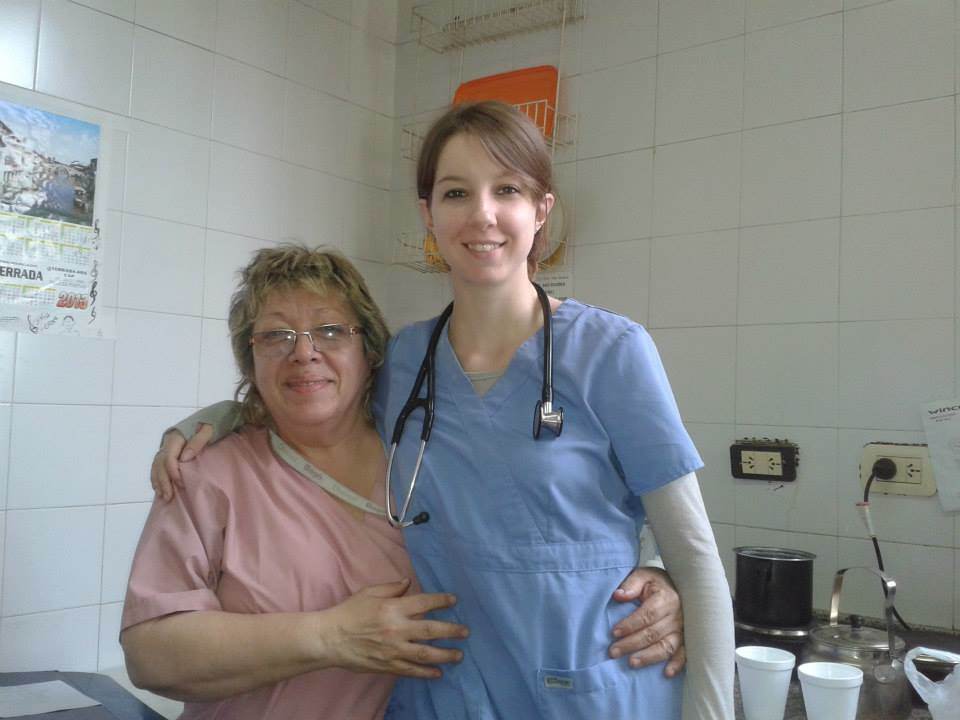 How did a public hospital in Argentina compare to a hospital in the US?
One of the main differences I noticed was the role of family in patient care. For patients admitted to a public hospital in Argentina all the care they are receiving is free. However, "extras," things like clothes/gowns, cups, soap all need to be provided by the family. In addition, because we were short staffed with tight schedules, we often relied on family to feed and comfort patients. Probably more striking than the differences in available materials and technologies were the differences in protocols. There didn't seem to be a lot of structure with regards to written orders, patient identification, medication storage etc.
What would you say you learned from your internship?
The number one thing I learned from my internship is to trust my instincts. Because of the lack of access to the internet and other medical resources, and because of my language barrier, it was harder to clarify information. I was often faced with diseases and equipment I had never seen before. When patient safety is on the line it is so important to know what you are doing. I had to learn that if something doesn't feel right it probably isn't. Sometimes I chose to walk away from a situation I was uncomfortable with. This was pretty hard especially because to the other nurses these situations were just second nature and I was being counted on to do my job. Ultimately I believe learning when to speak up or walk away strengthened my confidence in my ability to provide safe care to my patients.
I also learned what it truly means to provide culturally competent care. In the U.S. we talk a lot about providing culturally competent care to our immigrant population. What I never thought about was how to provide culturally competent care when I was the foreigner, working with different standards and practices Although I tried my hardest sometimes it could be frustrating to not to say "Well in the U.S. we do it this way…" Not only could this have potentially been offensive to my co-workers, but also that kind of attitude degrades the quality and type of care these patients are used to receiving and quite grateful for.
What was it like living in Buenos Aires?
I absolutely loved living in Buenos Aires. After I got over my shock of living in such a large city I came to enjoy everything the city has to offer. In addition to all of the historical sites there are to visit, Buenos Aires is never short of cultural events. I loved visiting all the open markets on Sunday afternoons. Argentines operate on a very different schedule than Americans, often staying up until all hours of the morning on weekends. Although this lifestyle wasn't what I was used to and could be tiring, living in Buenos Aires was probably the most fun I've ever had. The people are so friendly, welcoming and curious to know about American life. I can't wait to go back some day.
What are your plans now that you're back in the U.S.?
Now that I am back in the U.S. I am finishing my undergraduate nursing degree. As I get closer to graduation I am starting to think about returning to South America and nursing there. Although there are a lot of pros and cons to this decision and it is definitely a huge step, my internship in Buenos Aires allowed me to realize that working in a public institution, working on my second language and immersing myself in South American culture was exactly what I want to do.