It's Arthur's Day!
By Katie Arango

When you think of things that are classically Irish, you probably think of bright green landscapes, amazing writers, the Blarney stone, the pubs, and of course, Guinness! And for the last five years, that last Irish icon and its founder Arthur Guinness, has been celebrated with a day of music festivals and celebration of Irish pub culture, throughout the country and around the world.
What's it all about?
Arthur's Day, named after the company's founder Arthur Guinness, began in 2009 to commemorate the 250th anniversary of the Guinness brewing company. It consists of musical acts and gatherings at the local pubs throughout the country. And there have been and continue to be international celebrations in faraway places – New York, Kuala Lumpur and Lagos, Nigeria!
Music
Live music is a key element of Arthur's Day celebrations with several headliner bands as well as free shows at many different venues in Dublin and throughout the country. This year's headline artist include: Daley, The Script, Manic Street Preachers, The Original Rudeboys, Kodaline, Le Galaxie, Janelle Monae, Bouts, Bobby Womack, James Vincent McMorrow, Iggy Azalea, Ham Sandwich, Girl Band and Biffy Clyro.
Sláinte!
Proponents of Arthur's Day often refer to how the day positively promotes Ireland's pub culture. It's worth mentioning here that pubs are deeply rooted in Irish society and are much more than just a place to have a drink (though that happens are well!) Pubs have strong social ties to the community – and they're a great place to celebrate important events, listen to live music, enjoy lengthy conversations with friends and strangers, and eat as well as drink.
And on Arthur's Day at 17:59 pm, hundreds of Guinness fans in pubs around the country will raise a pint to Arthur's memory (17:59 is a reference to 1759, the year the company was established.)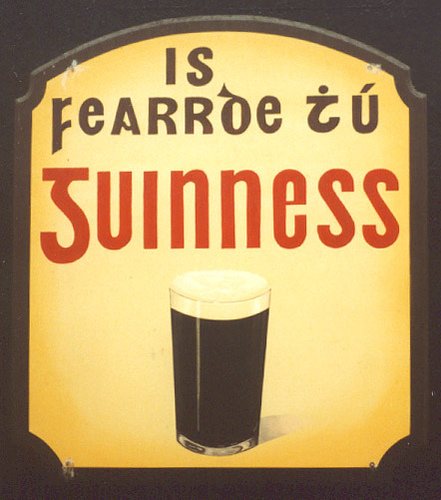 Irish language ad: "You are the better for Guinness"
Arthur Guinness Projects
In 2009, along with the creation of Arthur's Day, The Arthur Guinness Fund, a program was set up to "further the legacy of Arthur Guinness and support social entrepreneurs around the world."  The fund celebrates Arthur's belief in social progress, his history of philanthropy and his entrepreneurial spirit and has supported many social entrepreneurs over the past four years.  This year, they've taken on a new approach, calling it Arthur Guinness Projects. It will look for and fund fantastic ideas that promote social change in the areas of the arts, sports, music and food.
Criticism
But Arthur's Day is not without its share of controversy. Opponents believe it's just a marketing ploy designed to promote Guinness consumption, and that Arthur himself was a businessman, not a national hero. Others worry that it encourages and promotes irresponsible drinking. There have been calls to boycott Arthur's Day and many artists, musicians and Irish people have joined the growing movement.
Will you celebrate Arthur's Day?