The Impact of the World Cup on Human Rights
By Melanie McDowell

There has been much debate over the impact of the World Cup on South Africa.
South Africa winning the bid to host the 2010 FIFA World Cup proved South Africa to truly be the world player of the African continent, a country rich with natural resources and beauty. However, can a country that currently suffers an estimated shortfall of 2.1 million housing units, and has an unemployment rate of around 25% justify the enormous expenditure that went into hosting the World Cup?
The World Cup after all was not South Africa's or even Spain's, but FIFA's.  FIFA exercised their control from the word go.  In Cape Town, the initial proposal to upgrade the Athlone stadium on the Cape Flats, which would have brought much needed infrastructure and potential for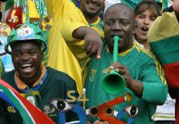 income in the outlying township areas of Cape Town was rejected in favour of building a brand new stadium with the much more favourable backdrop of Table Mountain at an estimated cost of $600 million.  This money could have paid for 9000 school libraries, according to one of our education partners, in a country where approximately 79% of schools have no library facilities.
The site of the impressive new Cape Town stadium in Green Point used to be the venue for a crafts market, which is no longer.  FIFA's regulations exclude informal economic activity meaning that those who could most benefit from the event, like street vendors, were not permitted in the vicinity.
Prior to the World Cup there were reports of "clean up" operations happening throughout Cape Town instigated by FIFA, removing the homeless and shack dwellers from areas where they might be "eye sores".
Lack of service delivery protests broke out throughout South Africa in the run-up to the World Cup, and threats of xenophobia after the World Cup started to spread.  Those living in shacks with no access to basic amenities like electricity and water began to feel outrage as priority was given to huge spend on stadiums and City "face lifts" whilst the shack dwellers' basic requests continue to go unnoticed.  Sixteen years since becoming a democracy, millions still live in shacks in South Africa made of little more than corrugated iron and cardboard.
However, South Africa has come a long way since the UN Convention against Apartheid in Sports of 1986, hosting and winning the rugby world cup in 1995, and now having successfully hosted one of the biggest sporting events in the world, the 2010 FIFA World Cup.
Negative rumours in the run up to the World Cup suggested that South Africa was not fit to host such an event and that FIFA had a backup host country, 'just in case'.  Despite media scaremongering that South Africa is a country full of crime and danger, and human rights scares around human trafficking, South Africa pulled it off, and then some.  With around 24 billion viewers, South Africa really did become a world stage.
So as an expensive marketing exercise for Brand South Africa, was it all worth it?  Anyone who was here during the World Cup saw the colorful international waves of people dancing and 'jolling' (South African word for partying) in the streets, vuvuzelas trumpeting, Bafana Bafana supporters going bananas, and the tremendous support for Ghana, the last African team in the competition.
According to a World Cup visitor survey, 92% would recommend South Africa.  Despite the doomsayers' predictions of crime, the dedicated courts that were set up to handle cases over the World Cup reported dealing with only 205 cases. Elements of this system will remain to ensure swift justice for South Africans.  This along with the improved infrastructure and transport systems are all positive legacies from the World Cup.
There is no doubt that hosting the World Cup was an expensive exercise; the estimated cost of the10 stadiums alone is $2 billion.  But will the positive light thrown on South Africa result in increased confidence from international investors, and long-term benefits for the country?  Or would this money have been better spent on addressing immediate needs for housing, employment opportunities, education, and healthcare?  Only time will tell whether the millions of shack dwellers in South Africa will see any benefits from the World Cup in their lifetimes.
South Africa has proved to the world it can do it, now it needs to prove to its people that it can put the same energy and expenditure into delivering basic services to improve their living standards.
Melanie, who left the grey of England to study in the even greyer and wetter Ireland, moved to Cape Town to find the sunshine and try her hand at marketing, having dabbled in magazine production and advertising. She worked in conjunction with a design agency, promoting and marketing a brand management system, and used her powers of persuasion to secure a buyout of the company. Melanie has traveled widely and spent time volunteering in Mozambique, Sri Lanka and Guatemala. After several years as part of the Connect-123 Cape Town team, Mel felt the lure of the Emerald Isle once more. She now heads up our Dublin program, adding her experience and enthusiasm to the unique energy of one of Europe's most vibrant capitals!