Top Five Cape Town Road Trips!
By Katie Arango

There's no question that there are plenty of fabulous activities to keep all types of visitors busy within the Cape Town city limits. But no matter how much you love the Mother City herself, there are tons of great spots all around the Cape and all over South Africa, just waiting to be explored. So hop in your car and get ready for some left-side-of-the-road adventures! Here are some of our favorites Cape Town road trips:
1. Crystal Pools – Day Trip
There is no better way to get away from the city without actually getting very far away from the city! A trip to the Crystal Pools (part of the Kogelberg Biosphere Reserve) makes for a fantastic day trip on a hot summer's Sunday! The trip includes an easy hike along the Steenbras river bed leading up to a number of natural mountain pools where you can spend the day swimming and hiking from one pool to the next. And for those who are especially adventurous, don't miss the spectacular cliff jumps in to the pools. Armed with your bathing suit, walking shoes, plenty of water and food for a picnic, you've got all the ingredients needed for a splendid day with magnificent views across False Bay to Cape Point!
2. Franschoek Winelands – Day Trip
You might say that Franschoek has it all. Some of the country's best wines? Check. Spectacular panaromic views? Check. A 300 year old history? Check. World class dining? Yep, got that too. Franschoek is a spectacularly beautiful wine region with panoramic views of the area and a quaint town full of history. There are over 50 wineries in the valley, most of which offer tastings. Stop in Stellenbosch on your way and visit some of the wine farms there as well! And for those that don't like to spit out the wine during tastings, never fear – there is a hop-on, hop-off winetram can take so that you don't have to drive from vineyard to vineyard.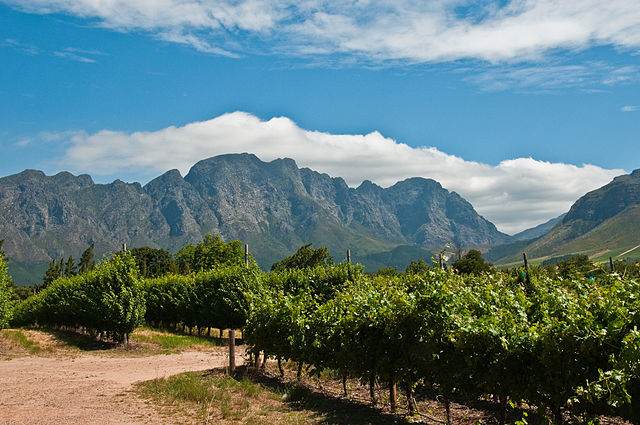 3. Cape Peninsula Tour: Cape Point, Boulders Beach and Chapan's Peak Drive – Day Trip
This gem of a day trip includes at several different Cape Town must-sees! Start off by taking a scenic drive along the coast through False Bay (good for learning to surf), Kalk Bay (Great markets and restaurants right on the shore) and Fishhoek (great beach for swimming, but watch out for sharks!)
Next stop? Penguins!! Continue on to Simon's Town where one can get up close and personal with the African Penguin colony at Boulders Beach.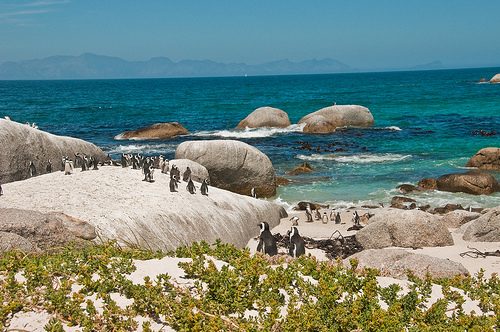 Then you'll make your way through the Table Mountain National Park towards the gorgeous Cape Point, where the panoramic views of both the Atlantic and the Indian Ocean are absolutely spectacular –don't forget your camera! And throughout the park, keep your eyes peeled for buck, baboons, ostriches, Cape Mountain Zebra, as well as over 250 different species of birds.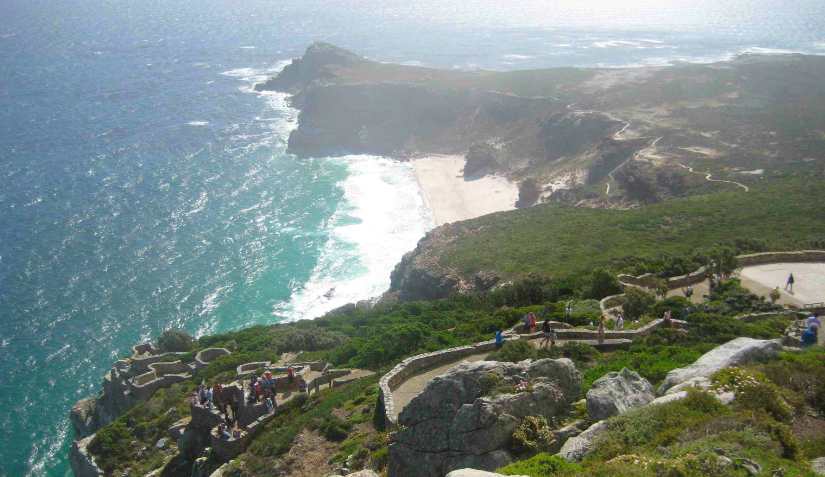 On your way back to the city, drive the Atlantic coastline home and take Champan's Peak drive which winds its way between Noordehoek and Houtbay with breathtaking views of the western side of the Cape Peninsula region. Try to arrive just before sundown, it gives the water a magical sparkle and makes for some amazing photos.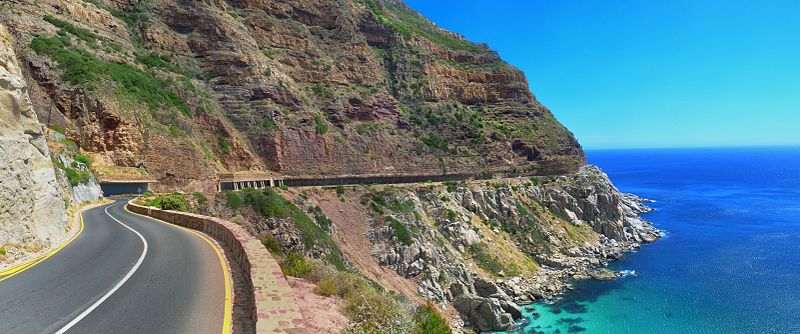 4. Beverlac – Weekend Trip
Beverlac is a common favorite among local Capetonians who love to get out of the city for the weekend and escape into nature! It's a fantastic spot for students as it offers extremely well priced (some might even say cheap) accommodation in the form of camping and cabins. This secluded spot offers endless hiking trails, swimming pools and rock climbing and jumping opportunities. In a country full of amazing outdoor activities, Beverlac stands out as heaven for a nature lover!
6. The Garden Route – 3 – 5+ Days
The Garden Route is a unique 240 km (150 mile) stretch of land situated between the mountains and the coast of the Indian Ocean, from Mossel Bay in the Western Cape to the Storms River. The Garden Route was named for its ecologically diverse vegetation and amazing scenery – from gorgeous beaches to forests to fynbos covered hills to lakes and lagoons – this is a drive that's not to be missed. Just a few of the activities that you can take advantage of along the route are: canoeing through Wilderness National Park, taking the plunge off the "highest commercially operated Bungy Jump from a bridge in the world", whale watching from a kayak, wine tasting on gorgeous vineyards, hiking or biking through wilderness trails, cage diving with the sharks, inghot springs, and spend some quality time with cheetahs, ostriches, dolphins and crocodiles. And we've really only scratched the surface!

What's your favorite Cape Town road trip?
Franschhoek photo credit – Penguins photo credit – Chapman's photo credit – Cape L'Agulhas photo credit – Garden Route photo credit – Garden Route2 photo credit