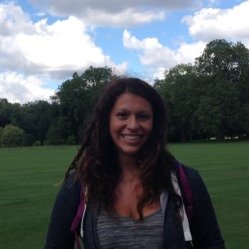 Ashley Robledo
Human Rights Volunteer

| Barcelona
San Francisco State University
9 August 2016
Connect-123 gave me an opportunity of a lifetime… an experience I never thought I'd embark on. Two months living in the most beautiful, cultural city that is Barcelona and traveling around Europe? Yes!!
Connect-123 found a volunteer opportunity for me that accommodated my desires. I volunteered for a foundation that worked with youth at risk. Through the foundation, I was able to improve my Spanish-speaking skills through playing with the children, make long-lasting friendships with my coworkers and even learn the basics of Catalan. Their summer activity schedule allowed me the flexibility to visit other cities in Spain on weekends and explore Barcelona after a typical work day. We held a few days of after school activities followed by a three-week summer camp that included outings and a week outside of the foundation relaxing in a gran villa. After a sunny day of camp, I would pick a new part of Barcelona I have never explored, take the Metro there and lose myself walking around. I took trips to other cities in Spain on weekends and lose myself in those cities as well. When the foundation concluded its summer activities, I embarked on a ten-day trip to France, Italy and the United Kingdom.
I felt the thrill of it all exploring Barcelona and other parts of Europe on my own. I experienced the excitement as well as the hardship adapting to new environments.
Solo traveling may sound scary, especially as a young female, but it gave me strength, courage and the confidence that allowed me to break out of my shell. I met so many people from all over the world and felt right at home living in Barcelona. You can believe me when I tell you it beats foggy Northern California… or you can take initiative and let Connect-123 give you an experience of a lifetime!
Back to all reviews