Go Global, From Anywhere!
Apply for a remote, virtual internship and build your global work experience, from your laptop!
Since 2006, Connect-123 has helped thousands of students find career-related, international internships at top companies.
We're now offering this program virtually, where you'll gain remote working skills valued by employers, learn new technologies and practice how to communicate across global teams.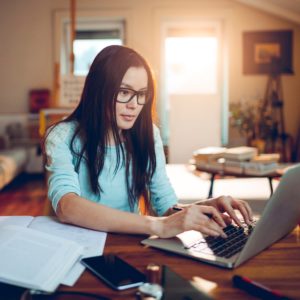 Virtual Internship Program Benefits
1.
Get in touch
Contact us and we'll schedule a free consultation session to discuss your interests and goals. We can answer any questions about potential placements and, together, define your ideal internship. Then, complete our application form, providing additional information about your background and preferences.

2.
Prepare
If your application is accepted, we guarantee placement and we'll work together to find the ideal role for you. The placement process typically takes 2 to 6 weeks, and during this time, we'll help you revise your resumé as well as prepare for internship interviews.

3.
Start
After attending our online orientation, where we provide tips about remote work and local culture and where you can meet other participants, it's time to get started! We'll be there every step of the way, via feedback meetings and coaching sessions, to ensure that you receive maximum value both during the internship and for your future career.
What are the durations and hours?
Durations are flexible, however to make the most of the experience, we suggest a minimum of 6 weeks, 20 to 30 hours per week. Longer durations and additional / fewer hours are also possible.
Where are your partner companies located?
For on-site internships, over the years, we've placed thousands of students in Barcelona, Buenos Aires, Cape Town, Dublin, Shanghai, and Sydney. For remote internships, while we focus on those cities, we have contacts worldwide. If you have a preferred destination, including internships in the United States, please let us know.
What industries are possible?
Internship projects are available across a wide range of fields including advertising, business, communications, design, education, engineering, finance, health care, human rights, journalism, marketing, social work, sustainable development and many more! Since we find custom internships, specifically related to your interests, let us know your goals and we'll suggest best-fit options.
Can I receive academic credit?
Yes, please discuss with us and we're happy to liaise with your university. We also offer supplemental courses, related to cultural competence and effective communication, to fit university requirements and curriculum.
What is the cost?
Our comprehensive $1,550 program fee includes pre-internship advice and preparation, customized placement, on-going mentorship and professional coaching, seminars related to communication, productivity and job searching skills, and post-internship career guidance.