Connect-123 Wins 2021 Innovation in Alumni Engagement Award
By Steven Levy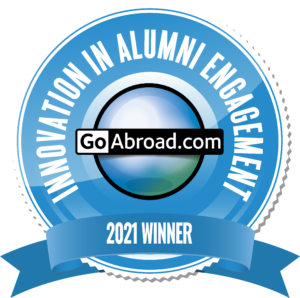 We're excited to have recently been chosen as the winner of the 2021 Innovation in Alumni Engagement Award and are honored to receive this recognition!
Since 2006, thousands of students have interned abroad through Connect-123 and learned valuable skills that they've used in their subsequent career development. As program graduates, they've participated in our alumni mentor network, "paying it forward" with current Connect-123 interns in their field to help answer questions about career options, to discuss job search strategies and to increase their networks.
As part of our Career Success Program, alumni are invited to participate in our Enhance Your Career Success workshop, led by Connect-123's Director of Student Development, performance psychologist Dr. Brett Steenbarger, where we help alumni to leverage their personality, character, and cognitive strengths to maximize their personal and work lives.
We also offer Connect-123 Alumni Mastermind Sessions, which combine brainstorming, education, and peer accountability, challenging group members to create goals and accomplish them, with support and input from their peers.
Our Alumni Career Success Program, which is aligned with our mission to offer internships as a platform for lifelong learning, is offered free of charge as part of the lifelong value participants receive when signing up for a Connect-123 program.