5 Ways To Use Your International Internship To Land A Job
By Sarah Dilworth

Whether you are a recent graduate, looking for summer or seasonal work, or simply want to be prepared for when you do enter the workforce, knowing how to market yourself and your experiences is key to landing that dream job. Through studying abroad, interning abroad, or volunteering abroad, you surely gained more than a handful of transferable skills, work experience, cultural immersion, and probably a certain degree of language proficiency. Now comes the tough part of putting all of it to use and actually landing that dream job, highly- coveted interview, or acceptance to graduate school.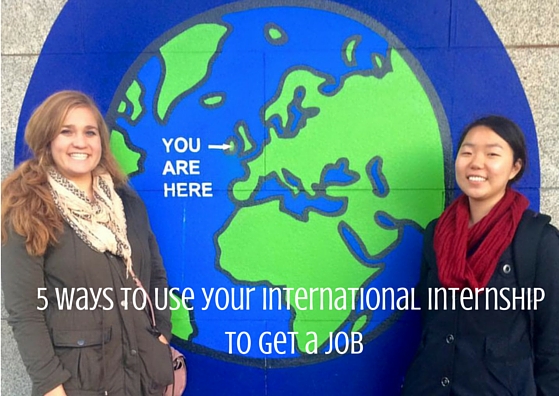 1. Resume
This is an obvious one, but condensing your entire international internship down to 3 or 4 bullet points on a resume or C.V. is not easy. First, figure out which style of resume suits your experience. Should you go for a chronological resume or a functional resume? This could depend on your field of work, experience, skills, education, and employment history. Always tailor each resume specific to the job for which you are applying. Interning abroad not only adds significantly to the employment section on your resume, but can contribute to other sections as well. If you acquired a language and/or intercultural communication skills while abroad, be sure to mention that. If your internship abroad was for academic credit, you could include it briefly in your education section. Depending on the type of and your role in the internship, you could also incorporate it into a volunteer, interests or professional membership section.
2. Cover Letter
Most people dread writing a cover letter. And deservedly so, as it is an awkward balance between bragging, flattering, and trying to be unassuming. To make this process less painful, save a document to keep track of projects you have worked on, responsibilities, new skills acquired and daily tasks while you are interning abroad. This will make it much easier to remember the nuanced details when you are crafting your cover letter or statement of purpose in the weeks, months, or years after you return from interning abroad.
3. Interview Talking Points
Prepare a few points to bring up during an interview that will succinctly showcase your cultural, work, and educational experiences abroad. This is often great to bring up in the "tell me about yourself" question, as it is open-ended and can give you a chance to really direct where the conversation goes. Important aspects to remember, regardless of your field, is that taking the initiative to intern abroad shows a real commitment to professional development and is an example of challenging yourself both professionally and personally.
4. International Work Colleagues
It is so important to keep the lines of communication open, while you are abroad and even after you've returned home. Reach out to your international colleagues. They most likely have connections within your field of interest, perhaps even in your home country, and could put you in touch with some people-in-the-know or help set up an informational interview for you. At the very least, remember to ask for a reference from your supervisor before you return home to add to your portfolio.
5. Let The Experts Help
If you participated in an internship abroad program, utilize their staff's expertise! Talk with your coordinator before you return home about how to best represent your international internship on your resume and cover letter, in your interview and beyond. Trust us, they have lots of practice in helping interns showcase their experiences effectively. Reflecting on your experiences before returning home to school/family/work stress can be so beneficial. Continuing to reflect after you have returned home and had time to process your experience is important as well.
An internship abroad can often give you leverage in the job hunt. So follow our tips to not let your experience go to waste!
How will you include your internship in your professional portfolio? Do you have any tips or advice you would give to international interns looking to leverage their experiences abroad to land a job? Share them in the comments below.