Benefits of International Internships
By Carla Steenkamp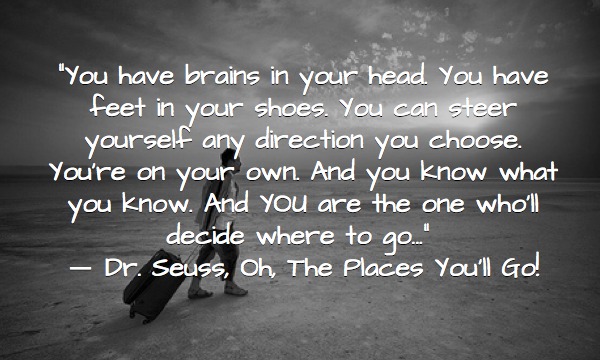 Famed author and all around sage Dr. Seuss clearly knew what he was talking about. Though this may just be a line from a children's book, still today this quote rings true; you have the brains to steer yourself in the direction you want to go. You just have to know where it is you want to go, and determining your destination is priority one.
Nowhere is this more evident than when it comes time to choose a destination for your internship. You're a young, up-and-coming, tech-savvy hipster with the world at your feet and an information super-highway at your fingertips, so you clearly already know that having an internship will have countless benefits for you. (On second thought, maybe they are possible to count; here are our Top 5 Reasons to have a Professional Internship) But the big Seussean question remains, where will those feet be taking you?
Reasons to have an internship close to home might be that you can utilize your pre-existing network of contacts, you might be able to live at home, and you already presumably know how to get around your home city. But participating in an international internship also has plenty of perks, which include, but go way beyond, just having a blast in a new country. Here are our top three:
1. Global Perspective
Interning aboard will cultivate your cross-cultural perceptions, as you get the chance to break through the barriers of cultural understanding. Not only will you learn about all the intricacies of another nation, you will also be able to share with others about things that might be foreign to them. This is the perfect platform to give those you encounter an understanding of what makes your culture socially, economical and politically unique. In an increasingly integrated world, employers find it of great strategic importance to hire those with a global perspective. Shadowing a professional from another country will expose you to different management styles, work settings, and perspectives that will help you to quickly become a productive member of a multicultural team. Thus interning abroad provides you with insight into foreign work environments and customs that will boost your personal skills, and give you a new international perspective to move forward in your future career.
2. Personal Growth and Independence
Personal development comes along with professional development, as you gain a certain level of individuality in the workplace. The meaningful experience you gain from an international internship shapes you in your character and personality. You will stand out to future employers as an individual who is a go-getter; willing to leave your comfort zone in order to gain skills and learn new things. Adjusting and adapting to new environments and unfamiliar situations and learning to effectively manage differences are increasingly important workplace skills that employers are looking for in employees. As you get your hands dirty functioning as an integral member of a team, you will soon learn how to think on your feet and make decisions for yourself and grow in confidence to do so.
3. Learn a new language
Apart from learning how to communicate better in a global work environment, an internship also provides the ideal opportunity to learn or practice a foreign language. Your ability to speak multiple languages and effectively communicate with other nationalities will make you more marketable to future employers. Another advantage is that you would be able to learn a foreign language directly in a professional context to include use of related terms in your field. And while it's one thing to be able to ask for directions or make small talk in a new language, making a client presentation or speaking with a supervisor about increased responsibility will take your language levels to new heights!
In summary, when deciding whether to intern domestically or abroad, don't forget: it's taking that step out of your own comfort and into the unknown where you will learn about real life. And if you're lucky, you'll learn to think outside of the box, in a world where boxes don't make any sense anyway.