My internship in Buenos Aires: Carleton College student shares experience in photos
By Heather Luedke

I'm currently completing my summer internship in Buenos Aires at an environmental non-profit organization. Each day I'm uncovering exactly what aspects of environmental sustainability I want to pursue after college, and at the same time, I get to improve my Spanish. This is my internship story in photos.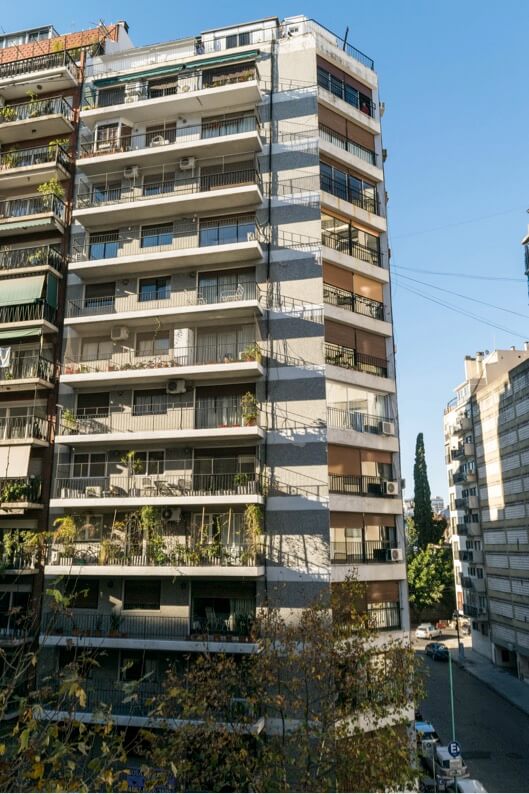 This is the view I wake up to every morning, the view from my apartment's balcony. It seems like almost all of the apartment buildings here have balconies, and almost every balcony has a garden of some sort. I like this because it adds a little bit of green to an otherwise crowded and grey city.
My roommates and I originally wanted to get some plants for our balcony but then realized that it didn't really make sense because we're only here for two months. Instead, I just enjoy other peoples' gardens as I eat breakfast every morning. I've started painting them in my spare time too – I like the contrast between the natural and man-made aspects of the scenery and want to capture that in my art.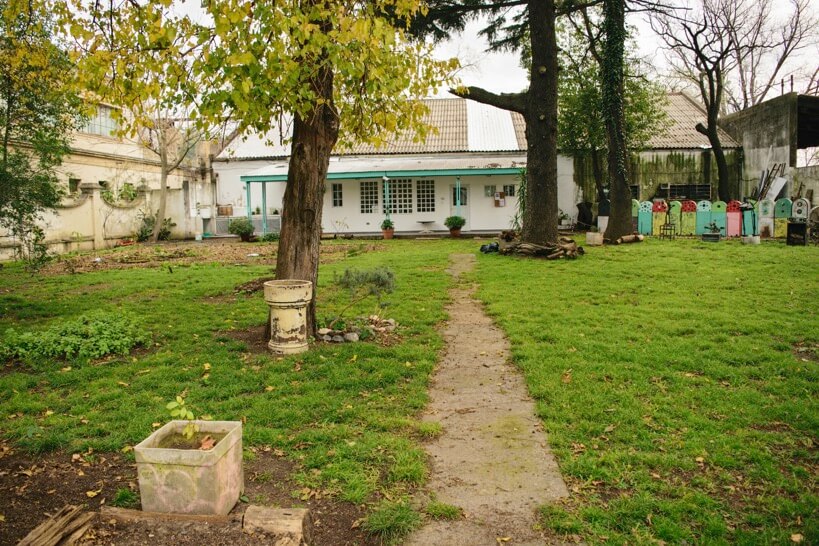 This is my work building in the Agronomía district of Buenos Aires, and it looks very different than the rest of the areas in the city I spend my time in. Instead of skyscrapers and apartment buildings, there are cows on leashes, houses with yards, and actual department and grocery stores instead of supermarkets squeezed into city blocks.
The work I do here is multifaceted. I write blog posts in Spanish, translate other blog posts to English, help prepare for events and take photographs, manage the various social media pages, and do other odds and ends. While it is similar to some work I've done in the United States, everything is run differently here – we work different hours, there are different expectations, and a different hierarchy of staff – and that, in combination with working entirely in Spanish, has kept the work interesting and engaging. It's really nice to get out of the center of the city and see another side to living in Buenos Aires.
This is my view on my walk to work. There are lots of fields surrounding the office, filled with all sorts of animals – llamas, horses, sheep, cows, and more. My first day here I was very surprised to see farm animals in an area that is still part of Buenos Aires proper, but now it's just a normal part of my work week. There's also a little café across the street where my fellow interns and I go for lunch almost every day. In comparison with rest of the city, my host organization and work environment is significantly more rural, but I like the change of pace and watching the animals as I go to and from work every day.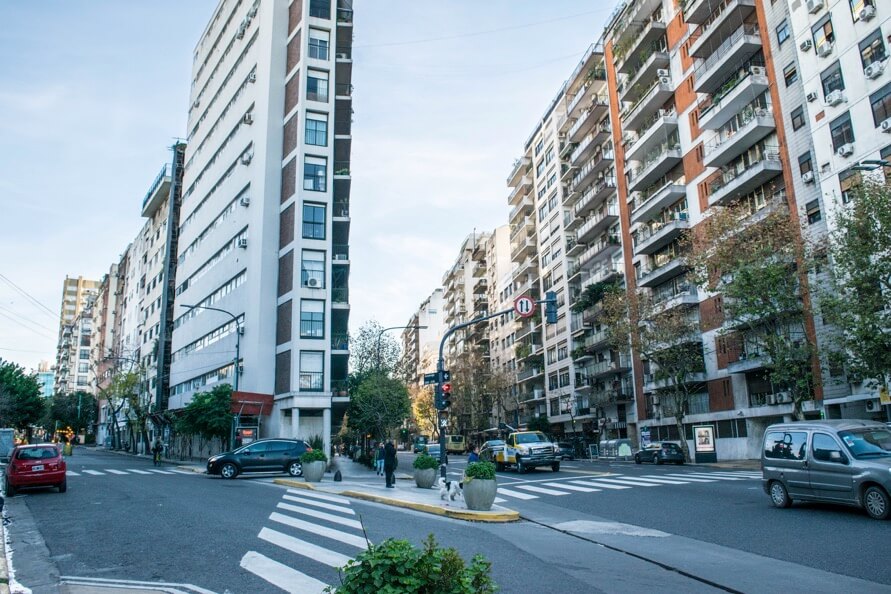 To get to my internship I use the subway and a bus, but sometimes I get bored with taking the same route day in and day out. So I try out different ways to get around – taking the train or a different bus – to keep things interesting. This photo was taken on one of those days; as I walked home from a different bus stop I captured the view of the street I live on from the opposite direction than I normally see it.
Changing things up allows me to see more of the city and enjoy my commute instead of getting bored.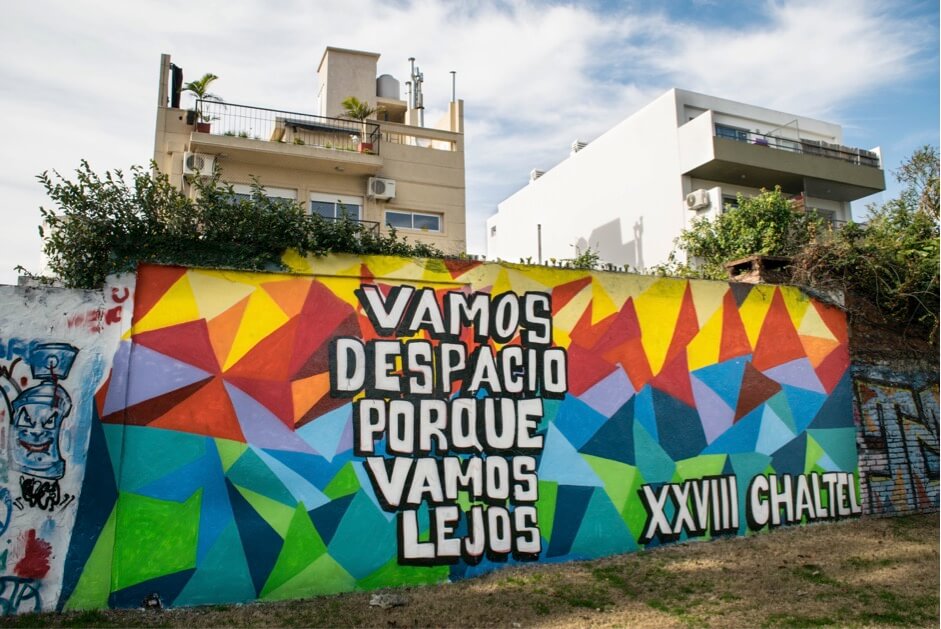 I have pretty nice work hours – I start at 10am and the office closes at 3pm – so I have plenty of time to explore the city after work. I'm doing my best to use my free time to see lots of different types of art throughout the city, from street art to historical Latin American art in various museums. This particular mural is on the back wall of someone's house in Saavedra, a providence of Buenos Aires that has a thriving street art scene, and was done by an art class from a local school. I love painting, so seeing all the different styles, techniques, and mediums of art here has been a highlight of my time in Buenos Aires.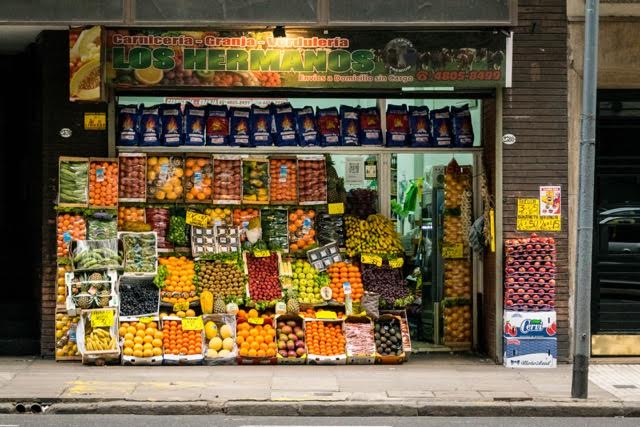 One of my favorite things about Buenos Aires is the little fruterías all over the city. Grocery stores here generally don't have many fresh produce options, so it seems like most people get their fresh fruits and vegetables from these vendors every day or two.
They are everywhere – within the few blocks around my apartment building I think there are four different vendors – and they often have slightly different options. I go to the frutería across the street from my apartment almost every day to buy avocados, mangos, pears, asparagus, eggs, peppers, and much more. I love having such easy access to fresh fruit and vegetables, and wish I had one next to my house in the United States!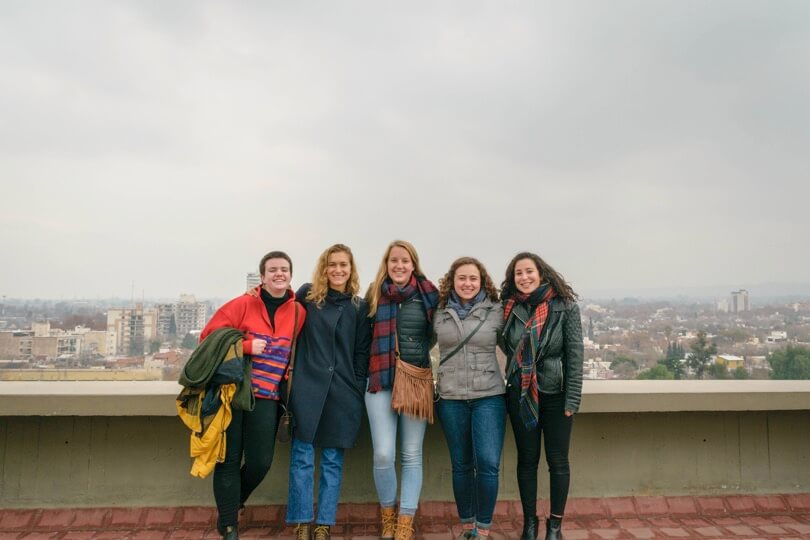 Unique to my experience with Connect-123, I came to Buenos Aires with six other students from my college, so we've spent a lot of time together. My adventures around the city and outside of it (this photo was taken in Mendoza, Argentina) are often with them or other Connect-123 interns, and it's been really great to have people to explore with and talk about all the new and weird things we're discovering. From cooking meals to figuring out how to use the public transportation, doing things together has made my transition to Buenos Aires much easier.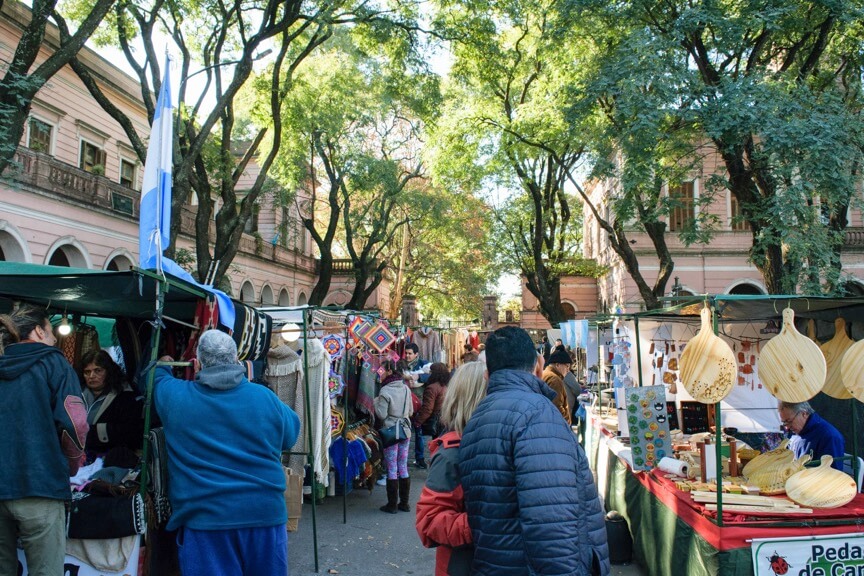 Although I've been exploring lots of different places throughout the city, I always seem to end up at "ferrias" (market-type fairs that happen every weekend in many locations across the city) looking through all the booths and buying souvenirs for family and friends. This particular one was in Mataderos, a providence of Buenos Aires, and in addition to the typical spread of meat knives, jewelry, leather work, clothes, decorations, and shoes, there was also an entire area dedicated to food – dulce de leche, empanadas, spices, jams – and a stage with performances going on all afternoon.
The live music and festive dancing added to the experience, and my friends and I happily spent the entire day browsing the stalls. I then finished up the day at another ferria a block away from my apartment in the city.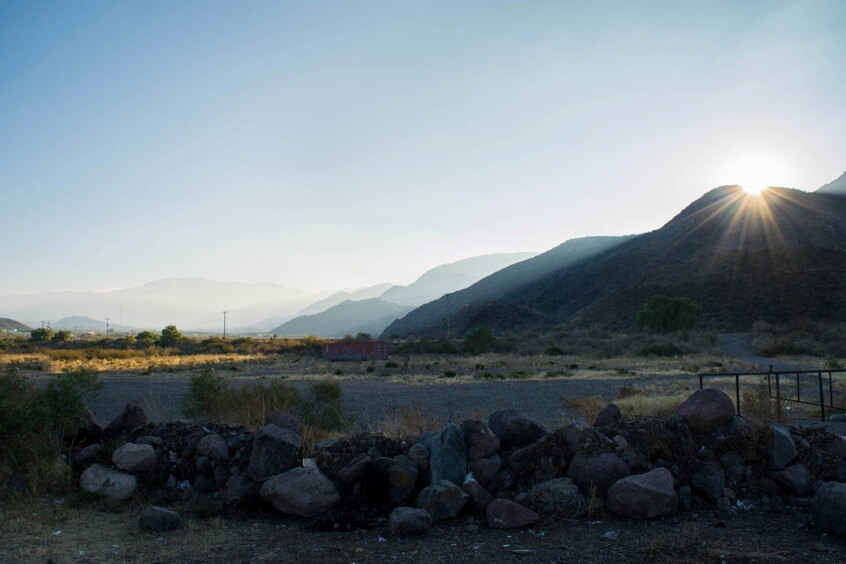 I'm from a small town in the mountains, and so coming to Buenos Aires has been an adjustment. From the constant traffic and noise to the tall buildings and lack of huge natural spaces, the things I'm surrounded by are very different than what I'm used to.
Don't get me wrong, the fast-paced life and never-ending things to do are great –I've been enjoying the city – but my weekend trip to Mendoza was exactly the break I needed. After 15+ hours on a night bus, I ended up at the foothills of the Andes and spent two days hiking and lazing around in some hot springs. It was definitely worth the bus ride; it gave me the space I needed to process my time thus far in Buenos Aires and to experience a more laidback Argentine lifestyle as well.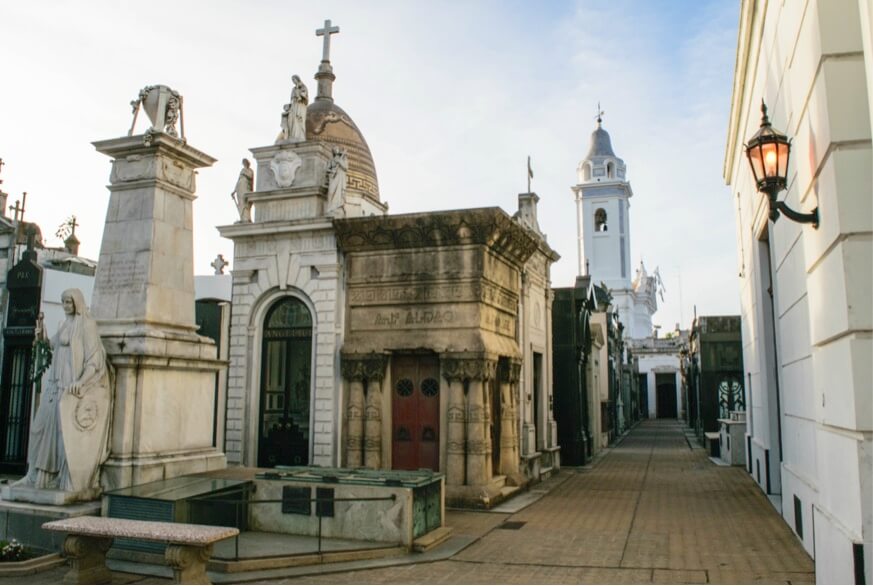 Just a block away from my apartment is one of the most famous destinations in Buenos Aires, La Recoleta Cemetery. A break from the typical city scene, the cemetery consists of hundreds of grandiose graves, some of them mini skyscrapers themselves, lined up in rows so tall I wondered if I'd get lost inside the gates.
My roommates and I spent the afternoon wandering between the graves, simultaneously in awe of the details and adornments while also being slightly creeped out by the coffins within the graves. The cemetery is so large we didn't make it through in one afternoon, and since it is so close to our apartment, I often find myself wandering and exploring it again.
While I find myself doing different things every day that I'm here – there's just so much to do and not enough time – I've settled into a routine. I go to work during the week, stop by the frutería on my way home, go for a run in the neighboring parks or explore the cemetery or a museum, and then relax in the evenings. My weekends are packed full of different trips and excursions with other Connect-123 interns around the city and to other parts of Argentina.
While it's a busy lifestyle, I've been enjoying every minute of it, and have loved taking photos along the way, too.
Connect-123 offers internship opportunities in Buenos Aires, Shanghai, Dublin, Cape Town, Barcelona, and Sydney in a wide variety of industries. Click here to find out more!
Click here to read testimonials from our Connect-123 alumni.