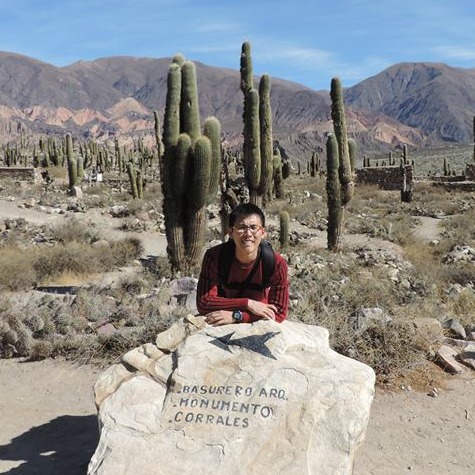 Benjamin Lim
Education Intern

| Buenos Aires
National University of Singapore
30 June 2014
The education internship I was assigned to involved assisting primary school students with English conversational skills and secondary school students with Biology and Environmental Management lessons. It certainly allowed me to gain insights on the Argentinian education system, at the same time picking up soft skills for me to become an effective teacher in future. This experience has helped me to realize that learning is life-long. Even after 18 years of education in school, there are still many things I can learn. Things like language, interpersonal skills, responsibility, punctuality and patience are qualities beyond school education. And these are the exact attributes that can be achieved via an overseas internship.
Besides, you will also be presented with the opportunity to discover Argentina's breathtaking landscapes. In just two short months, I've travelled to Tigre, Cordoba, Rosario, Andes Mountains in Mendoza, Perito Moreno Glacier in El Calafate, Ushuaia (the world's southernmost city), Iguazu Falls and Quebrada de Humahuaca in Salta/Jujuy. Even within Buenos Aires, it is not all work and no play. I got to attend a football match at the River Plate stadium and witnessed for myself the ecstatic atmosphere of Argentinian football. The food (especially meat!) is so delicious that I was always craving for more. Social events are also organized periodically for Connect-123 participants to touch base with one another. Add that to the amazing people you meet throughout the course of your internship, I can assure you there will be no lack of friends to interact with!
That being said, it wasn't a smooth journey throughout, otherwise I wouldn't have benefitted like how I actually did. The biggest challenge I overcame was the language barrier. I was bold enough to arrive in Argentina with absolutely zero Spanish background. At times, it was a struggle to even get by. Nevertheless, I took 2 weeks of lessons and displayed the determination to learn. Thankfully, the teachers showed patience and the students were more than eager to teach me Spanish vocabulary. Everyone really does appreciate the fact that you are attempting to speak Spanish. By the last day, I even managed to craft and read out my farewell message entirely in Spanish!
I would strongly recommend this internship to anyone who is keen to step out of his/her comfort zone. Anyone who is adventurous and willing to try new things, things that you never imagined you will accomplish. Anyone who is keen to develop relationships you would never have ever envisioned. Anyone who wants to embark on a journey of self-discovery. Lastly, anyone who wishes to have the time of their lives.
Back to all reviews
More Reviews for Education and Teaching Internships in Buenos Aires