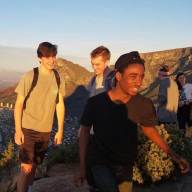 Conor Byrne
Communications Intern

| Cape Town
Rhodes College
10 August 2016
I went into this experience unaware of what living in Cape Town would entail. I assumed it would be a good time, as did my roommates and other friends I met along the way, but I don't think any of us had a clear idea of what to expect when travelling to South Africa. Despite this, working and living in Cape Town turned out to be two of the most adventurous and rewarding months of my life. And that is not just a personal memoir, but also a repeated statement one hears from nearly everyone they meet while being a member of Connect-123.
In a single ambitious day, we could take surfing lessons at the beach, hike Table Mountain, and scarf down a bacon, cheese and avocado burger at Royale Eatery. As aforementioned, that would be an ambitious day, but it is not an impossible one. The point being, think of something you would like to do tomorrow, and Cape Town can provide it.
As for the internship itself, I could not be happier with my placement. I was fortunate enough to be given rewarding work, and I was given great exposure into my field of interest. Additionally, I will genuinely miss the coworkers I have had the pleasure of getting to know over these past couple of months. As for other aspiring interns, there is a great range of internship openings that Connect-123 can coordinate for you in Cape Town that will bed tailored to your desired experience.
All together, Cape Town has an abundant number of opportunities for the people who are willing to try them. To people who are up for the fun, Connect-123 offers you the chance to both find work that is beneficial and travel with the comfort of knowing you won't be alone in a new place. The Cape Town coordinators are always happy to help should a problem arise, and they plan events to help you bond with your fellow Connect participants. Fellow friends, I should mention, who are always up for an adventure and a good time. I would advise any and all to live in Cape Town when they have the chance, and Connect-123 is a wonderful group to help you achieve this.
Back to all reviews
More Reviews for Communications, PR and Event Management Internships in Cape Town