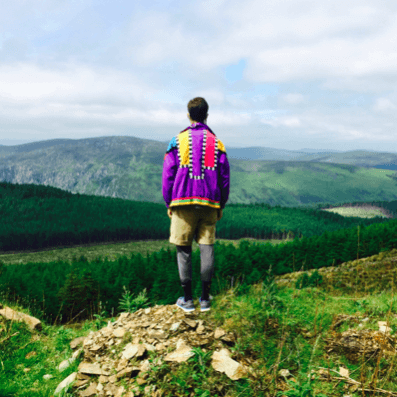 Jake Kohler
Astrophysics Research Intern

| Dublin
Colorado College
30 June 2016
There's a fine line many undergraduates like to walk along: traveling and working on something relevant to their major. Most end up doing one or the other. Connect-123 not only makes both possible, but also makes the experience seamless. Yes, you have to fill out a number of papers, but I can't imagine anybody looking back and thinking, "man, Dublin would've been so much cooler if we didn't have to fill out those applications." Pick from any of Connect-123's cities, tell them what you're interested in, and sit back and relax. My coordinators kept me well-informed about what they needed from me, when a new offer came in, how to use the bus system, where to get groceries, etc. There was barely a moment of confusion during my internship experience.
My internship consisted of working in an Astrophysics Research Group at a leading Irish university with six Ph.D. students. I studied the effects of solar storms on earth's magnetic field. As it turns out, my coworkers were some of the best people I met during my experience. Often, we would stay afterhours to play games, or on lazy Friday, during hours. You might find the European work ethic appealing. That isn't to say that work was easy. At times, I found myself unable to find the flaw in my coding algorithm. Fortunately, everyone was there to help. I got a real impression of what physics graduate school would be like, my main educational goal for my time in Dublin.
When you arrive in a new country, you instantly notice some differences: people driving on the 'wrong' side of the road, cashiers expecting a different currency, and in some cases (but not mine) citizens speaking an unknown language. However, the best differences, in my opinion, are the ones you learn after a night out drinking with your coworkers or the first time you hear the Irish bagpipes in the oldest pub in North Dublin with your newly befriended roommates. How many of these subtle contrasts you pick up on is in direct proportion to how long your internship is. As an avid traveler, I understand the desire to go to every historic city in Europe and every mountaintop around the globe, but there is something extra you gain when you live in a foreign city for an extended period of time: an in depth, genuine feel of the culture. You may find yourself coming back to your home country (or not!) with a few new slang terms, and a broader acceptance of peoples' points of view.
Back to all reviews
More Reviews for Engineering Internships in Dublin