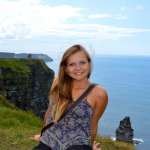 Karlene Horsfield
Engineering Intern

| Dublin
Queen's University
25 August 2015
My Internship in Ireland this summer was a life-changing experience. Not only did i gain invaluable experience in my field of study, but I met friends from around the world that will last a lifetime and had the opportunity to travel and see so much of the beautiful country while I was there. As I study Geological Engineering, Connect-123 was able to find me an ideal internship position for me: A Geophysical Field Assistant. This internship was unique from many of the internships other students were doing, as the majority of it was spent doing fieldwork in the North-West of Ireland.
However, I was able to spend about 2 weeks in Dublin preparing for this fieldwork, which gave me the opportunity to explore the city, meet other Connect-123 interns, and be immersed in the incredible Irish culture. After this, I headed to the small village of Garrison in Northern Ireland where the rest of my internship would be based out of. Over the time spent here, I became very close with my project instructors and fellow interns – all from different countries or regions. The fieldwork used Geophysics to determine whether the characterization of the earth here would be suitable for Carbon Sequestration in the future. The fieldwork was physically and emotionally demanding, and it rained every day. But I loved every minute of it. After the fieldwork I was taught the procedure of data processing.
Overall, Ireland was undoubtedly one of the most amazing experiences of my life. It was my first independent adventure abroad (which can be intimidating), but Connect-123 always made me feel comfortable and safe throughout my time abroad. I highly recommend any students looking for experience, adventure, and travel to do an internship abroad in Ireland – I promise you won't be disappointed.
Back to all reviews
More Reviews for Engineering Internships in Dublin