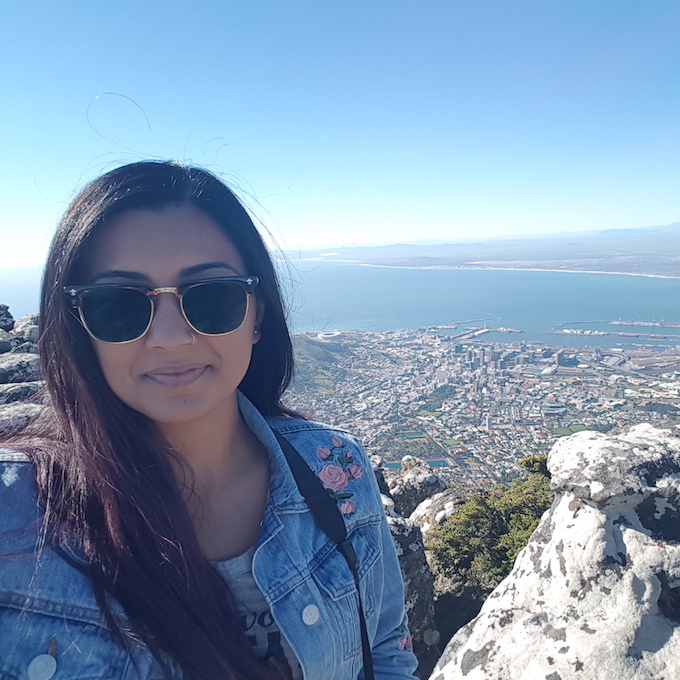 Preena Mand
Environmental Intern

| Cape Town
Simon Fraser University
21 November 2018
Working, studying, and even living in a foreign country can be very stressful when you don't know
anyone there, but I am glad that I had Connect-123 to help me. From the get-go, they were very helpful
and always an email away to help answer any questions or concerns I had and eased my worries such
that when I arrived, I knew exactly what to expect.
From the housing to the internship placement my Connect-123 team member Carla was always there making sure that I was comfortable and got everything that I wanted out of my experience. She really heard what I wanted in my placement and delivered!
Connect-123 gave me the opportunity to do an internship in South Africa at the University of Cape Town! I was right in the middle of the hustle and bustle of the city where there was much to learn and see and I was not too far from the place I was renting. I had wanted to do an internship that would allow me to experience a new perspective on environmental sustainability and Connect-123 gave me an opportunity to do so right on campus. I had the advantage of surrounding myself with peers with whom I made life-long connections. I had the luxury of working alongside a researcher and directly contributing to his research and because I was on campus, I had the added benefit of meeting and volunteering for field work with different members of the faculty, which included people from all around the world that came to the university to expand on their research.
The environmental sustainability aspect of this project was that by studying and learning more about birds and their behaviours we can put forward our research to help urban planners to build sustainably without putting any danger or stress on the local bird populations.
This was an incredible opportunity that would have been next to impossible to find back home.
I would like to thank Connect-123 for finding me an incredible internship that I will treasure for years to
come. I left the program with a great experience, made incredible friends, learned lots of practical
research and field skills, and made many new professional connections that will help me in my
professional future. So, thank you Connect-123!
Back to all reviews
More Reviews for Environment and Sustainability Internships in Cape Town