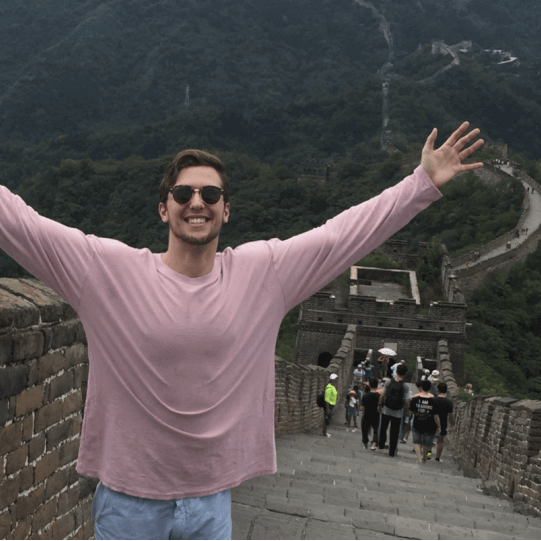 Jesse Linkhorn
Business Intern

| Shanghai
Rhodes College
17 July 2017
This summer I had the opportunity to intern in Shanghai, China, which provided me with one of the wildest summers I'll ever have. I spent my time interning at a small consulting firm downtown in the city. There, I was provided with a range of tasks that not only had me testing my business savvy (like reviewing financial reports and projecting cash flows), but also had me learn a variety of new things including Chinese GAAP and Tax laws, regular business facilitations, and a whole lot of Mandarin. Prior to this, I had very little knowledge of the language, which made adapting to life in China difficult at first. The challenge however, was one embraced and I have grown immensely not only in my knowledge but in the work environment and personally as well.
Connect-123 provided me with the chance to travel abroad and live in a large city, both of which were firsts for me. To this I am forever grateful because they allowed me to experience a whole new culture and lifestyle that I believe has made me a better person. Along with that, they were there with me every step of the way providing support whenever I needed it and checking in out of pure thoughtfulness.
This summer allowed me to go to places I never thought I would, meet some of the most kind and genuine people I ever will, and learn some things I never knew existed. I truly believe I have been made better off by this experience and it has instilled in me a desire to further study the culture and learn the language. I am grateful for the opportunity Connect-123 provided me and I hope to travel back to China again (if not for the amazing cuisine) to create many more fond memories. I'm excited for the future and what I'll be able to accomplish having had this experience.
Back to all reviews
More Reviews for Business Internships in Shanghai