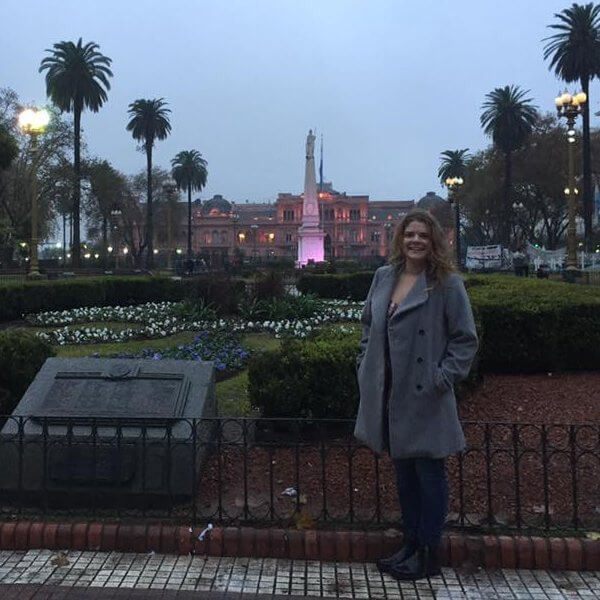 Karen Pontious
Public Policy Intern

| Buenos Aires
University of British Columbia
9 August 2016
I fell in love with Buenos Aires at first sight. The city is charmingly beautiful and full of rich history and culture. My three and half months in Buenos Aires were spent exploring and living and working as a local. A year ago I gradated with and International Relations degree from the University of British Colombia in BC, Canada. I knew even before I graduate that I wanted to do an internship abroad that has to do with my field. I chose Connect-123 because it seemed like a reliable and credible organization to make job connections abroad as well as enjoy different cultures and adventures. I'm very glad I made this decision because I can now leave Argentina a year after I graduated and say I succeed exactly what I wanted to and gained more experiences than I could have even imagined.
I worked at a nongovernmental organization that focuses on the prevention of economic crime. I really enjoyed working with the team. My supervisors were always laughing and joking around, which made coming to work always entertaining. They also taught me lost about Argentine culture, mostly the food and dessert that I HAD to eat before I left and I learnt how to prepare my first mate. I thoroughly enjoyed being apart of a local organization that focuses on economic crime and money laundering which are such crucial issues within Argentina today.
Working abroad in a different language was definitely a challenge at times but was exactly what I wanted to accomplish and I feel like I can return to Canada fluent in Spanish and with a bunch of stories and experiences that I will always remember.
Back to all reviews
More Reviews for Public Policy Internships in Buenos Aires