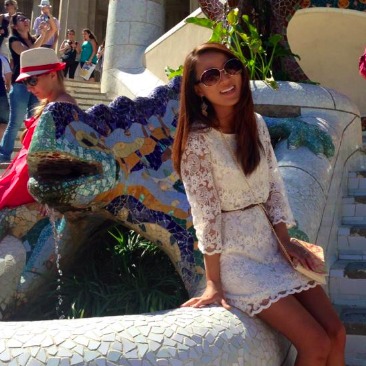 Priscilla Choi
Tourism Intern

| Barcelona
Rhodes College
29 September 2014
When people ask me "How did you enjoy Barcelona?", I always respond: "I loved it. I want to go back and stay there forever." And then they laugh. Little do they know that I'm only half joking.
My summer experience in Barcelona can be summed up in one word: AMAZING, and I have to thank Connect-123 for that! My dream has always been to travel to Barcelona, Spain and it was surreal to me that I was able to go to Barcelona and not only get real-world experience, but also have the time of my life! I was introduced to Connect-123 by a college friend, who also went to Barcelona through the same program and after his glowing review, I also decided to take the Connect-123 route. The coordinators at Connect-123 are awesome (special shout out to Lea, who is the bomb!) and make sure you're getting the most meaningful experience you can have. And that's why I would recommend it to everyone interested in interning abroad!
Barcelona will forever be in my heart. I was able to work with a small startup company based in Barcelona, which has shaped my professional experience background in a whole new way. Getting international internship experience is so valuable and I'm glad to have been able to do it! The great part was that aside from working, I was still able to enjoy myself, getting to know the city, exploring, traveling and of course, eating!! Being able to spend two months in Barcelona and integrating myself into the culture was one of the greatest experiences I ever had. After work, I would spend time getting to know the city and discovering the hidden gems and the major attractions of Barcelona! On the weekends, I would take day trips to cool places nearby Barcelona, like Costa Brava and Sitges. I even did a weekend trip in Madrid which was fantastic!
I know it's cliché to say that traveling abroad is life-changing, but it really is! I've learned so much more about myself and it's such a great feeling! When I got back to the US, I thought to myself, "Man I really wish I was in Barcelona again!" If you're considering studying/interning abroad, go for it! I promise you'll have an amazing time once you're there and there's a reason why everyone loves traveling! Thank you so much Connect-123 for allowing me to grow as a person and helping me fulfill my case of wanderlust!
Back to all reviews
More Reviews for Tourism and Hospitality Internships in Barcelona