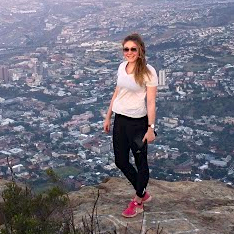 Simona Kipfer
Marketing Intern

| Cape Town
Berne Kirchenfeld University
16 June 2015
Arriving in Cape Town, the Connect-123 Team welcomed me and made sure that I felt comfortable in my new home. They assured me that if I had problems or questions I could always come to them. Staying in an apartment meant meeting not only other program participants but also a bunch of locals, which is a huge privilege. It`s never gets boring, that's for sure, and you are never on your own.
Two Days after my arrival I started my internship at a marketing & online media company. I don't how the Connect-123 Team managed it to find the perfect internship for me, but they did! I wasn't so sure about what I wanted to do so I told them that I am quite open and somehow they found something that matches perfectly with my interest. I loved working there and I am sure that this internship furthers me in previous jobs. As I did my journey to South Africa straight after High School, I have no working experience and you can`t imagine how much working, but also life experience I gathered by doing this. Besides working, you can undertake a thousand things around here because Cape Town offers mountains, beaches, city enjoyments, nature reserves, everything that your heart demands. I'm not really into hiking, but this beautiful mountain landscape attracts even me.
Another advantage is the nightlife, besides the vibrant clubs and bars there is a lot going on like Jazz Festivals, Art Festivals, carnival and MANY braais. I will never forget this experience because it brought me one step closer to understanding our world.
Nothing is more exciting than foreign cultures and lifestyles and you can only get to know them by travelling. People always say that you are never too old to travel but you are never too young either!
Back to all reviews
More Reviews for Marketing Internships in Cape Town