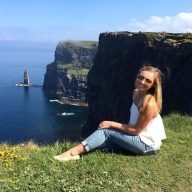 Angie Shearon
Health Care Intern

| Dublin
University of Arizona
10 December 2016
Completing a Connect-123 internship was one of the best decisions I've made, not only for my career but for my growth as a person. It was my first time travelling away from home for such a long period, but they made everything go so smoothly that I had nothing to be nervous about.
The internship was so perfect for me and was exactly what I was looking for! My supervisors made me feel extremely comfortable asking questions and made sure I got everything out of it that I wanted to. I gained so much from working in a hospital, it helped build my resume, I made strong connections with people who will support me through my career path, and it helped me figure out more of what I want out of my future job. Not only was I given the chance to assist with research, but I got to shadow a well-known doctor at the hospital and observe what he does every day. I got to see up close how he stayed calm and handled stressful situations, how he interacted with each patient on a personal level, and how he genuinely cared about giving every person the best possible care. This taught me a lot about the kind of doctor I want to be someday, and I will never forget the experience.
What made this experience as amazing as it was were the livelong friends I made along the way. Connect-123 made it very easy to meet everyone in the program because of group events we did so regularly, like getting burgers after work or meeting up for Irish dancing lessons. They provided us with information about fun things to experience while in Ireland and gave us tips about traveling to other countries as well. I wouldn't trade the memories from this summer for anything, and I am certain that the friends I made abroad will be friends I have throughout my life.
Back to all reviews
More Reviews for Medical and Health Care Internships in Dublin