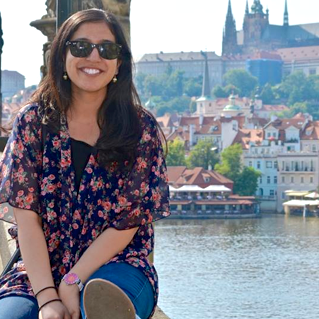 Sidra Shah
Health Care Intern

| Dublin
University of Texas at Dallas
5 August 2015
These past two months in Ireland have been absolutely amazing! From the remarkable internship placement at one of Ireland's pediatric hospitals, to the program coordinators' helpful demeanor, the Connect-123 program and staff have been wonderful and friendly.
I was a little hesitant coming to Dublin for the summer, and working at a hospital full time since I am still only a pre-med student. However, I got to work with my supervisor, who was brilliant and kind as he allowed me to gain exposure to the surgical and anesthetic fields. I saw many surgeries on a daily basis, and saw how all the health care providers worked together. Alongside an amazing internship, I enjoyed living in Dublin and experiencing everything the city has to offer.
UCD was a great place to live, as all the staff was hospitable and answered all of my questions/problems. I also loved being surrounded by the beautiful scenery and nature in Ireland. This trip honestly has been the most incredible experience I have had in my life so far. I grew so much as a person, a student, and appreciated being immersed in the Irish culture for eight weeks. I cannot wait to visit again soon!
Back to all reviews
More Reviews for Medical and Health Care Internships in Dublin