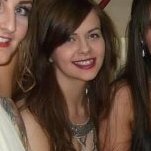 Jade Murray
Marketing Intern

| Barcelona
Edinburgh Napier University
25 September 2015
I seriously had the best summer ever this year and it's all down to these guys! When the idea of an internship in Barcelona appears in your mind, it's crazy but so overwhelming trying to figure out where to start – especially when your Spanish is no bueno. Not only did the staff at Connect-123 find me a great internship, they were always on hand with advice on housing, expenses and of course some pretty cool things to do with my time in Barcelona! My main piece of advice is to go for as long as you possibly can.
Originally I planned only 3 weeks, then decided on almost two months – but now looking back on things I really wish I had spent some more time there. I definitely had a case of culture shock when I arrived, so really don't worry too much to begin with as it took me around three weeks to really settle in to the way of life and truly enjoy myself.
Connect-123 managed to find me a marketing internship at a travel company, where I met and worked with the best people. Marketing wasn't really an area I had ever considered before as a psychology student, but I still managed to learn so much in my short time there.
Barcelona is an amazing place, I visited on a day trip last year and by the time I left I had said to myself "I need to move here". It's much more than just the tourist areas, there's so much going on and it's the sort of place you could just happily walk around all day getting lost down side streets. All the neighbourhoods have their own style and it really is a unique sort of place. Also if Barcelona beach isn't doing it for you, the beautiful Sitges is just a 30 minute train ride away – a quiet little seaside town if you ever need to escape for a day. Typing this from Edinburgh, Scotland where the current temperature is really cold, I wish to be back in Barcelona where I had the best time of my life!
Back to all reviews
More Reviews for Marketing Internships in Barcelona