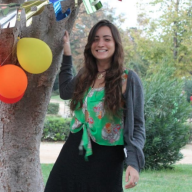 Olivia Tornelli
Marketing Intern

| Barcelona
Escola Superior de Propaganda e Marketing, Brazil
30 November 2015
"We are a constant experiment with unpredictable results". This sentence is from the design agency where I did my internship and describes exactly how my six months in Barcelona was. I was given a lot of responsibilities, attended meetings with clients, events outside the city and was able to improve my Spanish.
Barcelona is amazing! I enjoyed the museums, beautiful buildings and streets, beaches, restaurants, bars, parties and very good public transportation (you can go walking everywhere!). Barcelona is truly a city that never sleeps, especially during the summer. In one day you can meet people from all over the world! I can definitely recommend Connect-123's internship program and I don't have any complaints about it! It's not easy to find a job in Spain, but they found me some nice opportunities in my area in a short period of time. I had the best six months of my life, and the most unpredictable ones too! A huge thank you to Connect-123 and my program coordinator for this amazing experience.
Hasta pronto, Barcelona!
Back to all reviews
More Reviews for Marketing Internships in Barcelona