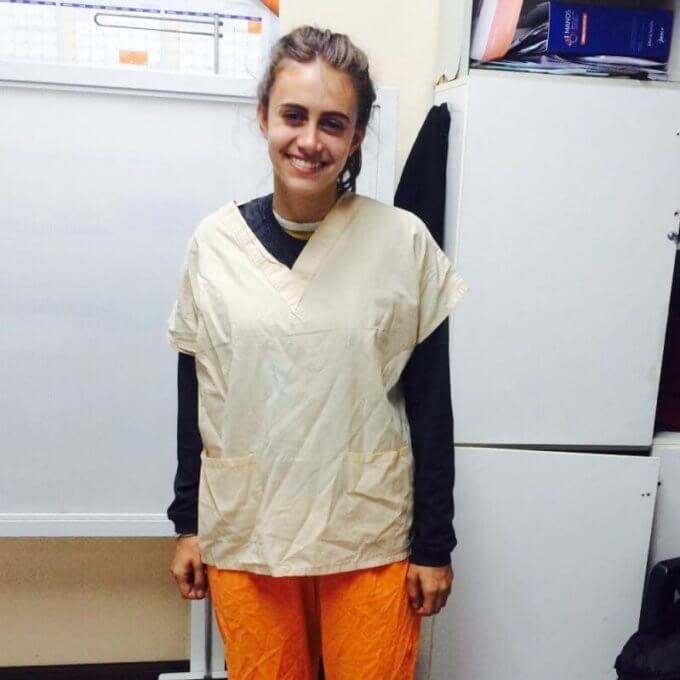 Olivia Rogers
Health Care Intern

| Buenos Aires
Drake University
15 August 2016
In five weeks Buenos Aires became the place in my dreams to the place of my dreams. Almost everyone asked me when I was here why I chose Buenos Aires, why I chose Argentina and I can't describe it, it just had this draw that made me want to go there so badly. Connect-123 allowed me to leave my bubble of Boulder, Colorado and experience one of the most stunning places I have ever been. It was also the fastest 5 weeks of my life and if I could do it over I would stay for as long as I could, many many months.
I participated in a medical internship as an 18 year old who hadn't even started college (so no medical training whatsoever). I worked at a public hospital which opened my eyes to a different type of medicine, more creative than what I was used to. I learned so much about the culture surrounding health and medicine from the doctors I worked with and it added to my want to pursue medicine. I was able to participate in gynecology, orthopedics, emergency, trauma, surgery, dermatology and oncology. I had the chance to bandage, remove bandages, cut off casts, help assist the patient after surgery, help put in catheters and interact with the patients in every other section. The surgeries I had the chance to observe were the removal of several tumors: colon and cervical, the implantation of a pacemaker, the amputation of toes and removal of parts of the colon. All the doctors were patient with me, always helping me to understand, practice my Spanish and engage with what was happening.
My living situation was perfect, I couldn't have asked for better and I became very close with many of my roommates. My house was unique in the way that I had people living with me from all over the world as well as people who were native to Argentina. There were people from Spain, Holland, France, Amsterdam, Scotland and the United States which was a very cool experience from the mix of cultures and backgrounds. I was taught how to play chess, had many delicious asados, had people constantly helping my Spanish, drank mate often and made many friends that I still talk with. My living situation was also incredible because of the location which made it easy to access the train, subway and bus system to get basically anywhere in Buenos Aires.
Buenos Aires is also an incredible city and I was so lucky to have the time I did to barely graze what the city holds. Several of my highlights were my day trips to Tigre, visiting the Malba, eating empanadas and going to an amazing bar called Florería Atlántico. Connect-123 definitely helps out by providing activities to help you experience the best of the city. One experience that Connect-123 helped me participate in was Fuerza Bruta which I loved! In Buenos Aires, obviously the primary language is Spanish and if you want to become more fluent and more comfortable then it is an excellent place to do so! My Spanish improved so much and almost everyone in the city understands that you are learning and are appreciative that you are trying. (So if you are worried about the language barriers don't be! Yes, it is hard and sometimes you will be frustrated but it gets easier).
All in all I couldn't have asked for a better experience: throughout all parts – my internship, my living situation, how Connect-123 assisted me throughout it all and the culture and city of Buenos Aires.
Back to all reviews
More Reviews for Medical and Health Care Internships in Buenos Aires