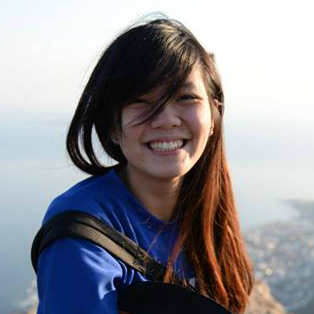 Anna Lim
Human Rights Intern

| Cape Town
National University of Singapore
24 November 2014
Choosing Cape Town for my overseas internship was the best decision I've made. I was filled with trepidation before arriving, mostly because of the impression of South Africa as somewhat unsafe and dangerous. Yet Cape Town exceeded my expectations by a mile. This is a place with a rich culture, breathtaking scenery, friendly locals and much more.
Connect-123 did a good job arranging my internship, accommodation and facilitating my stay here. Because of their tremendous help, I faced little hassle in settling down and making Cape Town my home for 5 months. The coordinators are always there to fix any problems promptly and efficiently. Also, they are very friendly and willing to help any time. I've also forged valuable friendships here with the other interns, despite coming from different countries with cultural differences. The smooth transition from Singapore to Cape Town and my fellow interns definitely contributed to the amazing experience I've had here.
I worked in a non-profit which focuses on refugees' rights, and I have learnt a lot from it. I familiarized myself with South Africa's human rights law and refugee law, which demonstrated the gap between theory and reality. My internship exposed me to the injustices that many refugees faced, and it was a harsh reminder that human rights progress is still far from maturity in South Africa. Also, I was thrown many challenging tasks – such as going for a business trip to Johannesburg and attending meetings alone, presenting on my organization's operations, and attending a parliament session. They are stressful, but I treat them as opportunities to grow, and I did. The internship allowed me to translate things I've learnt in my Political Science modules to real life, and I've gained a clearer perspective on human rights issues and an edge over other students; because I had a first-hand experience that others lacked. The internship caused me to reflect on what I want to achieve in the future, and I can say that working here in Cape Town has helped me find my goal in life.
Besides the internship, Cape Town as a whole is amazing. The experience here will not be complete without hiking up the many mountains this place got to offer, as well as exploring the Cape Malay quarters in Bo-Kaap, the bustling nightlife in Long Street, the scenic route from Muizenberg to Simon's Town, and most importantly, interacting with the friendly locals. The garden route and the west coast are beautiful places to venture to, and Stellenbosch also offers the luxury to indulge in great wines coupled with lush scenery. The best part is, Connect-123 arranges many tours to the various attractions, thus making it more convenient for those who prefer to experience everything without the hassle of planning them.
I will definitely miss my time here in Cape Town, and I have no regrets choosing this city for my internship!
Back to all reviews
More Reviews for Human Rights Internships