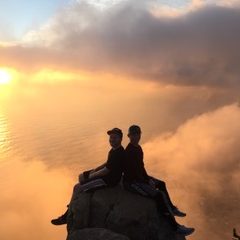 Isaac Rooney
Healthcare Intern

| Cape Town
University of Vermont
15 February 2017
Cape Town gave me without a doubt, the most educational, eye-opening, and exploration-filled two months of my life. The experience my internship gave me was unlike any I could've imagined. Working in a hospital in South Africa exposed me to more than I ever could have been exposed to in the U.S. and has given me both a unique and favorable addition to my resume.
Since getting home, I've been telling friends that Cape Town is the one place in the world where you can truly do anything. One day you could be hiking table mountain, the next you could be surfing, and the next you could be shark cage diving or visiting Kirstenbosch, the massive botanical garden.
Going into my internship in South Africa, I was very unsure, as I'm sure mostly everyone was. Having returned home, I can confidently say I made the best possible choice on where to spend my two month internship. I felt as though Sough Africa wasn't a place I would get another chance to visit and having taken the opportunity, I couldn't be happier with my decision.
Back to all reviews
More Reviews for Medical and Health Care Internships in Cape Town